Extensive reconstruction of FALEND Statistics Bureau
So. Sit back and relax, for here follows a wide-ranging reconstruction, in two parts, of how the Netherlands' administrative elite might have thought and proclaimed for years that the average Dutch person lives larger (and therefore slightly smaller) than the average Belgian or German. As you, loyal readers of GeenStijl, know by now, the average living space per Dutch person is much smaller than what CBS has claimed for years, and the figure of 65 square meters per capita is completely untrue.
But! We at GeenStijl wouldn't be us at GeenStijl if we didn't dig a little deeper. And thanks to documents we requested under the Open Government Act, it appears that a noted researcher did indeed point out to CBS in August 2021 that the 65 square meter figure could not be correct. Yet despite persistence and personable emails, the Census Bureau has stuck with its incorrect numbers time and time again. The last email from the researcher, in which it was calculated that CBS was widely mistaken, went unanswered. "Because it grabbed the recipient's attention.".
Not just any error
The figure of 65 square meters per capita has popped up in various places in recent years in debates about the housing shortage in the Netherlands. For example, civil servants wrote in De Correspondent Bible on May 17, 2021: "On average we have 65 square meters of home per person here (incorrect, G.S.). This means that we live much more spacious than the Germans, who have about 46 square meters per person. The Briton has to be content with an average of 44 square meters. This is a simple fact (Which is incorrect, GS) It completely changed my perspective on the housing debate. It is always about the number of houses. Such as one million homes must be added according to the Council of Ministers until 2030.
Platform31's supported think tanks even wrote an 84-page report titled "Better Use of Existing Housing" where the figure of 65 square meters per capita was taken as a starting point. The Home Office indicated the incorrect number for CBS at Staatsblad. The incorrect figure also appeared in discussions about the housing shortage in the Netherlands in NOS, de Volkskrant (here, here, here, here, here), NRC (here and here) and Cobouw. It was therefore not surprising that Professor Helga de Valcke (member of the State Committee on Demographic Developments) pointed out that the Dutch live on average much more widely than the inhabitants of neighboring countries as generally accepted knowledge in Nieuwsor.
So it's not an insignificant number. However, CBS says it is making that possible, according to its website "Community discussions can be conducted on the basis of reliable statistical information." that handles the error "Considering the people and resources available and the due diligence that needs to be done"And "most feasible". GeenStijl asked CBS if it was aware of the aforementioned posts, but that's according to the Census Bureau. "irralavent".
This matters, might we say, and CBS has conspicuously failed as a national data arbiter by letting this incorrect and misleading number float around in public debate for far longer than necessary. But judge for yourself! Part 1 of CBS FILES after the break.
CBS Files, Part One
The ubiquitous figure of 65 square metres, caught the eye of Léon Groenemeijer, senior researcher/consultant in space, housing and economics at ABF Research and still to some extent the protagonist of history. It will be sent on August 20, 2021 Nice email to CBS ("In short, I get the impression that something isn't quite right with your calculations. But of course it could also be me. I'd like to hear from you.") in which he indicates that the number 65 cannot be valid. The answer is picked up a few days later by a CBS employee, who immediately assumes Groenemeijer is wrong. A CBS employee at the Information Service gives Groenemeijer a short, incorrect answer ("ABF counts more").
Groenemeijer then tweeted, as previously reported by GeenStijl, that he remains convinced that the mean cannot be true. He tagged CBS employee and demography professor Robin Van Galen in it. Van Galen promises to return to Groenemeijer and appears to do so on the same day, 31 August. A CBS employee (Van Gaalen, CBS presumably declines to answer GeenStijl's questions to clarify who he is) quotes Groenemeijer's tweet and forwards it to a colleague. On September 2, a CBS employee sent an email with a draft response, which didn't make sense given the day's knowledge.
The CBS employee (who looked at it with a colleague) pretends that you can't calculate the average living space per person by dividing the total living space by the number of people. However, this is the definition of mean (see also: this column about error in de Volkskrant). The answer then suggests that the huge discrepancy (65sqm or 55sqm is a really big difference) is explained by the fact that some homes and some residents are not included. Another CBS employee responds to this rubbish with "good mail" And he offers some additional suggestions to add to the quite wrong interpretation of the difference. In a later email on the matter that day, the CBS employee suggests returning the poll with more recent data: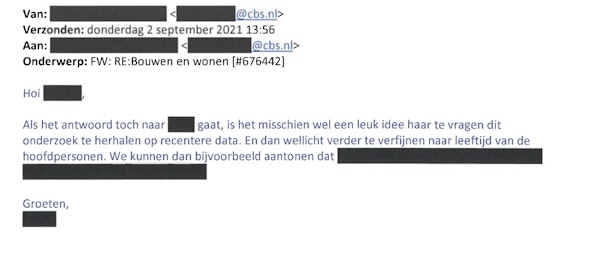 (Part of the text has been blacked out because, according to Statistics Netherlands, it contains "personal politics views")
In the end, Groenemeijer received an incorrect answer from CBS on September 2 (probably sent by Ruben van Gaalen himself). Here too, the somewhat irrational suggestion is made that average living space per person is something different from, well, average living space per person. Immediately that evening, Groenemeijer emailed saying he was still not convinced with the 65 square meter per person figure. Groenemeijer promises to take another look at the shapes with a specialist.
Groenemeijer also does the latter: He then sends a new email to CBS (presumably to Van Gaalen) on February 6, 2022. In it, he describes that he had a colleague perform the calculation based on the CBS microdata, and that this colleague arrives on average ​​To 53 square meters per person (remember this number). Then this email happens: absolutely nothing. She tells CBS GeenStijl: This email went unanswered because it passed the recipient's attention. Let's recap: CBS received a nifty email with accurate calculations from a nifty expert that corrected a rather large error polluting the housing debate in all kinds of places, and did nothing about it.
At least, until CBS publishes on its site on October 14th a false newsworthy article that goes unnoticed. It turns out that the average living space per person in the Netherlands is 53 square meters per person (did I remember correctly?). Demography professor and state committee member Helga de Valk is unaware of this and uses the incorrect number in Nieuwsuur, after which a GeenStijl commentator noticed it.
Trade website stadnieuws.nl also comes across the error and publishes a message about it on November 8. Groenemeijer sends out another tweet that he's glad there's finally a correction. Robin van Galen, who has left the Groenemeijers mail in his inbox for several months, responds on Twitter: "They're just people, those CBS people ;-)". People who mail elegant, expert emails with a bunch of reeds, instead of responding properly to their valid criticisms. yes.
You can read about how the patch happened in Part Two of The CBS Files.
beg request
GeenStijl is a small company with a wide reach that surfs the issues of the day. Beneath those waves we want to dive for pearls. Look for the bottom stones. You need divers for it, with experience, time and patience. This costs money. Money that doesn't slosh up against the plinths with us. Because there is no state aid. Because he did not wake up. Because there are no sugar daddies for big corporations. Want more or less research below the surface? Then you can arrange it. You Contribute, We Publish Wooers and Divers.