Tonight the town hall is dedicated to welcoming the new year to the municipality of Hof van Twente. Three years later, the residents were able to once again congratulate the municipal council and each other on the New Year and many responded to the invitation. The New Year's reception traditionally opened with a speech by Mayor Ellen Nauta, looking back on the past year, but also looking at the challenges facing rural municipalities. After this speech, local councilor Harry Scholten honored the 2021 and 2022 champions Hof van Twente on stage. From Markelo were Henne Olbeckkenk who became Dutch champion in July 2021 with her dog Lulu during a dog show in Zeeland and Nick Pinkert who became Dutch champion in 2022 with the red Holstein cow Elza. Willem Greif, who became Dutch champion in Deurne in April 2022 with his fast horse, was not present tonight at the town hall due to his stay abroad.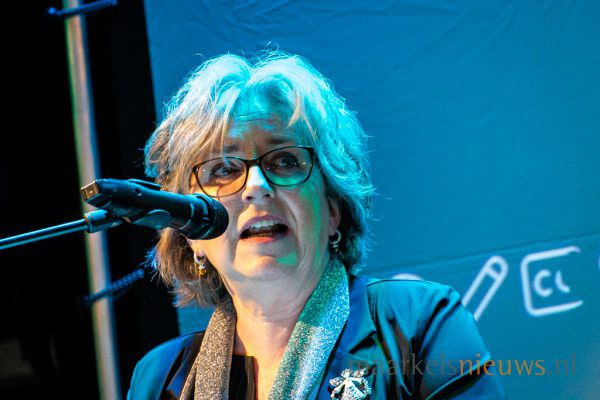 The speech, in which Ellen Naota always referred to her neighbor Decca Zwers, can be read in full below;
Dear guests, dear people,
We are now used to many people together again and have not kept 1.5m distance for a while. Sometimes you can still notice it when kissing. In retrospect, three times is a bit too much and it also seems pretty cool or glamorous to give a chest or a hand of heart, right? We humans get used to it quickly. Fortunately, otherwise I would have to stand here in an empty hall again. Although I'm sure Decca would have come with me again. still deca? Nice to have you with us and that you are all back!
In and out events are also in vogue again and the police can have a say in that, just like the fire brigade, who can't communicate enough not to do energy efficient and fire hazardous things. They are busy with us. They watch over our safety, even if we think it's overrated or unnecessary. I know they do it with much skill and love, but tonight I once again ask for a well-deserved applause for our women and men!
What a worrying year behind us. Global problems came very close. The Hof van Twenty Kyiv-Pechersk Association renewed long-standing ties and with it a large group of war refugees to Hof. Our residents opened their homes or made shelter possible in other ways. That's who we are: hospitable, warm and able to act quickly. And not only for Ukrainians. In Dilden, emergency care is provided in the event of a crisis, and families from other countries find refuge. Like that shy kid from Syria who taught himself to play guitar online and wants to be an architect. And then he will soon be able to rebuild the house for his family. And the refugees we will receive are in two schools, in Markelo and Gore. The streams will keep coming and we know the person isn't just running away.
However, it is sometimes hard to keep seeing that image. For a man expelled from his home and hearth, by war, by drought and heat, by poverty. I am sure that despite all our questions and all our own concerns, we will continue to make room for these people. Simply because we are hospitable, warm and able to act quickly.
It was also a year when food banks got busier, more people went into debt and kids were sent to school without breakfast. Earning enough from a job to pay for a house is no longer a given, let alone making it more sustainable. Access to care and education. Same story. Our people in the town hall have been assigned additional and heavy tasks in addition to their regular work, because the state depends on implementation at the local level. It's also clear now that there aren't enough hands out there and that government resources go to them. Yet we are always up for the challenge, even when we are shut out by unwilling local governments. It is unfortunate and unnecessary that The Hague still does not realize this.
That people still do not realize the amount of power and creativity in societies like ours. Last year was another testament to that: the fine companies took home well-deserved prizes: 250-year-old Carrelshavn in Dilden, and 175-year-old Isergeterij Sanders in Gore. Or how about all those associations that have been the focus in their society for a long time: Debenheim Reformed Women's Group 90 years old, PJGO Markelo 100 years old and the Royal Medal of Honor, Deldense Korfbal Association with award 100 years old, VV Bentelo 75 years old, Eungs Schöppe 50 years old ; as well as Goorse Korfbalvereniging Phenix '72; Rijvereniging Diepenheim 75, Markelose Motor Club Ons Genoegen is 90 How about Deepse Harmonie which celebrated its 121st anniversary with a beautiful new banner and totally regal uniforms.
Lots of strength, creativity and a sense of teamwork. The wheelchair for four days can be repeated again in Delden. Frederik took part in the Special Olympics in Twente, the golden old figures were dancing in Hengeldde, the Gorse horse market became a glamorous Gorse Winter market, and the prizes for volunteers from Overijssel County went to no less than four Hofsee institutions.
Stolpersteine ​​Goor Foundation, Franje Foundation, Markelo Site and De Reggetuin Volunteers Green Award. Finally, Museumboerderij de Wendezoele, who also came second a day later in presenting the Heritage Volunteers Prize in The Hague.
Top hats, everyone. They deserve your applause.
And speaking of conservatism. Of course we can sometimes disagree with each other. When things are noisy and a regional energy strategy is being worked on, chips sometimes fall. But we're on the same page when it comes to our farmers' need to gain perspective and the need to experiment. As is Markelo's farmers' plan to do better, more sustainable things with all the government money that's waiting. We believe we can do better together, if our growers are listened to and knowledge and practice work together. Cards from the table and actionable plans on them.
That is why it is very good that now our municipality can withdraw P10 for a while. The club of the largest rural municipality in the Netherlands now has 31 members spread across the periphery of Holland and has a place at the tables where decisions are made for us and now with us too. I was very glad that our King once again emphasized that town and country needed each other. Mutual. I believe that bond needs to be strengthened a lot more. Not from Calimero's position, but from the conviction that we have the strength and creativity to make it happen. We are an essential part of the solutions required by all of these key issues: energy, climate, housing, and care. And we want the city.
When the King's Commissioner visited us on his official visit, he tweeted "Diverse official visit to the self-conscious municipality of Hof van Twente. Inspirational initiatives for residents around the cores: future-proof Hengeelde, dynamic Stokkum, sustainable initiative Markelo-Oost". There he had the essence of our court. We are self-aware and we can be because so many good and beautiful things happen in our society. All those volunteers who want nothing to do without commitment, from the very first flying bird egg found by Tony Robert, to hoof champion Martin ter Hooft, from Benny and Annie Putman's Best Neighbors trophy to all those newly decorated during the rain ribbon.
From Op Stoom to Building in Stokkum. From many comprehensive plans to future heirs. Self-aware, powerful and quirky, that's who we are.
We received a new board in March and a new board in May. Council members I elected began four difficult years, self-explanatory. Together with the Council, they will have to make difficult choices for the benefit of all residents. Not from a single resident or entrepreneur, not from a single nucleus. They will have to balance interests and do what is best for the common good of our court. I wish them the space, the wisdom, the independence and the courage to do so. They need your support in this.
Finally, I wish all of us to be able to preserve and protect our court. Also in the new year. Even if there are still many challenges ahead. Perhaps it would be good, then, to rethink all that makes us such a wayward court. When we take in refugees, when we see our volunteers work, when we see entrepreneurs lose their necks, when we build homes for our children and everyone else looking for a place in our community. If we want to support our young and old, if we work for our safety, if we see our farmers farm. It would take a consultation, looking into each other's eyes, speaking not of each other, but of each other. Do not prepare this opinion immediately, but first listen and investigate. I'm sure we can. We can only do it together.
I wish you a confident, strong and united New Year.