social

Barneveld A friendly, humorous person and someone you can undoubtedly count on within the group of 'well-known Barnevelders' passed away last Tuesday. You haven't heard much about him in recent years. His health was ailing, he tried to take part in social life as much as possible, but his physical condition deteriorated – sometimes slowly, sometimes faster.
Standing average Advertising was a trader at heart and soul. In 1973 he took over his father's painting business, which had started in Barnefeld since 1890, and expanded the business further with shops in Amersfoort, Apeldoorn, Eide and Zutphen. Over time, the company won many large projects inside and outside Barneveld, such as painting sports halls, apartment complexes, and commercial buildings. Weather conditions played a major role in this. Ad sometimes compared the work of a painter to that of a farmer: "The first thing he does when he wakes up is to see the weather."
Shop Guldie's shop was initially located on Jan van Schaffelaarstraat, but eventually moved to a new building on Anthonie Fokkerstraat in the "De Briellaerd" business park. His son Adrian is now in charge of the paint and wallpaper store (Colorstore), while his brother Jap is responsible for the paints and upkeep of the property. On its centenary in 1990, the Guldie Company was awarded the original "Supplier to Court".
socially concerned Besides his successful career, the social role that Ad Guldie played in the village of Barneveld can be considered of great importance. In the last decades of the twentieth century, he developed many initiatives that we still see every day. In 1983, for example, he performed with Henk Rietberg, Jur van Ginkel, W. Hofstede, and Dirk. Overeem and J. van Kampen are part of the first board of the Dutch Poultry Museum Foundation. Visitors to the Veluwse Marktdagen experienced him as Jan van de Fliert's successor, as an auctioneer during the 'Erfhuus' and as a warm advocate for the Oud-Veluwse Marktdagen which has been held in the village since 1967.

Two auction houses for the farmhouse on the Oud Veluwse Markt in one photo, completely unique. Ad Goldie links.
local significance Especially through his role as president of the Local Interest Association, he ensured that thanks to his initiatives at the end of the 1990s and the beginning of the century, we can still see and hear the results. In 1998 this association had been in existence for a hundred years and it was decided that the not-so-massive capital would accrue largely to the residents of Barneveld. The old town hall received its own bell and as a surprise a number of roundabouts were decorated with concrete eggs with the year 2000 marking the turn of the century.
love of antiquities In the year of foundation 1977/78 Ad Guldie became a member of the Rotary Club Barneveld. In 1992/93 he assumed the presidency. That year, the members encountered Ad's love of artifacts. Every week they were given a strange object, the origin and use of which had to be guessed. While rummaging through antique shops and flea markets, he would often come across an object he thought belonged to one of Barnefeld's museums. For example, Nairac and the Poultry Museum sometimes received a donation from him. Ad's sense of humor within the Rotary Club, as well as all other organizations of which he was a part as a member (board), is still maintained. Ad was adept at putting apparent problems into perspective and bringing to an end many emerging conflicts with sheer wit. In 2001 Mayor Wim Bergering presented him with the Barneveld Municipal Medal of Honor for all his efforts for our community, and in 2006 Queen Beatrix appointed him a Knight of the Order of Orange-Nassau.
Married twice Ad Guldie has been married twice. He was first married to Ada de Heus in 1968, who died in 1990. With her, he had three children. Ad married Arda Romeijn and moved into a house with her in Thorbeckelaan. There they shared their love for each other, their children, and their hobbies.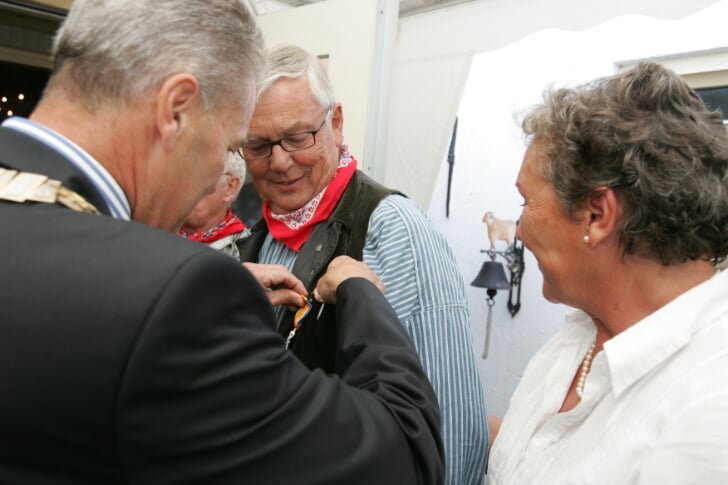 Ad Guldie was awarded a Royal Medal. (Photo by Janus Visser/BDU)
SCHEFLAARSEBOS I was personally introduced to Ad when we were both on the board of the Local Interest Association in the late 1990s. He's the chairman and I'm – inexplicably, actually – the treasurer. At that time we were also members of the Rotary Club, later of the Rotary Club Plus, and we often met in the village or in Schavellarcibus. He used to walk his dog there and my wife sat us. Rumor has it that Ad and I used to look a little alike. Apparently our dogs thought so too, because they lunged at him assuming I was coming. Not only will I miss those meetings with Ad greatly, but I will miss Arda, the children and grandchildren, and I will not forget all the Barnevelders whose lives I have enriched in some way. He definitely has mine. RIP you leave a void for so many people.
By Jorgan Kreboulder