Painter Carl Sniot's head is full of impressions and images that sometimes emerge after years of boiling into private sketches. He takes his time and values ​​his artistic freedom, in a world he thinks can afford to have more fun. And there his fans—from the kids who discover his wonderful books and the parents he lets color outside the lines to the art lovers who want his prints on the wall—follow him enthusiastically.
The thought of the artist's blood flowing through his body makes Carl Sniot laugh. At the time, no one saw his now remarkable career as a painter coming up, least of all himself. Although he loved nothing more than drawing, he dreamed of a future as a designer of beautiful frozen packaging and promotional labels. He made the first illustrations for a few collections of poetry because he did not like to disappoint anyone. But then the young writer on Tilt, Geert de Coqueri, pushed him with his new illustrated book Willie And Carl added his own story.
In my prints I push boundaries, but other than that I'm a good bitch
More than 40 books and about 200 later translations. An exhibition of his work at Sint-Pietersabdij in Ghent in 2015: before in my head At least 50,000 visitors attended. The great voice parts can still be found today at www.historischehuizen.stad.gent. Wervik vineyard, where it grew up, honored last year with a 'light picnic', once again attracting thousands of visitors. And from March 17 to April 29, 2023, WM Gallery Antwerp is organizing its first sales exhibition. Their website displays a long list of awards for Carll's work.
Everything he touches in his now 26-year career seems to get a golden edge. He really shouldn't be complaining, smiling. He works hard – his "layered" style takes a lot of time – but he gets a lot in return. Not only the awards from the jury, but also the warm feedback from the audience. He likes the prices, and the response from the audience is more pleasant.
People love your prints. what is the secret?
Carl: "If only I knew. I suspect my technique, subtle detail, and craftsmanship contribute greatly to this. But my work also borders on what children and adults like. I haven't consciously worked for it. I illustrate children's books, but over the years adults have also been interested in print." ".
"I didn't quite get it at first. It was only when the Ghent exhibition was a great success that I realized that my work was taken seriously, also outside the world of children's and young adult books. Suddenly I noticed while signing books that people buy books for themselves, not just for their children. The exhibitions showed Art was also an interest, and prints have since exhibited on their own, regardless of their context."
How has your style evolved over the past 25 years?
"The ideas I start from and the way I work has remained the same. I look for ways to engage the viewer or reader in the story. By leaving something out, leaving a space between the text and the illustration, I want to encourage people to fill in and experience their own story. It's hard to explain. But for now Take the book million butterflies : This is about two people, but since it's literally nowhere in the text, I've made animals out of it. This gives the story a completely different dimension, while still remaining true. I will never give up this way of working."
"But now I work less graphically and more in detail than when I first started. I'm also getting better every day, learning every day. Since I had some limitations as a painter when I started, it's only those limitations that prompted me to develop my own style. I've by resolving my imperfections in a sometimes unorthodox way, which became the basis for a kind of individuality that can still be found in my work, although I paint better now." (Laugh)
How do I envision collaboration between you and the authors?
"You have to click between us. But also, and that's not an axiom: the author has to give me space and have confidence in what I'm doing. He has to be able to let go of the text, knowing I'll do the best I can. It doesn't work for me if it's the author or the publisher." He's constantly looking over my shoulder…just because I have one delightful ben wants to do good for everyone, he practically won't get "personal" that way. If a lot of people participate, I just block."
"That doesn't mean there's nothing wrong with 'creating a picture through chat.' It's just not what I want to do. I need my artistic freedom. If I contribute to a book, I also want to be told. It also means that working with me sometimes takes a lot of time." Time: Ideas must be given time to grow in my head."
Who do you want to create a story with?
Maybe with Josse De Pauw or Wim Opbrouck? I would also like to write a new book with Peter Verhelst, who is now a good friend of mine. But for that, it's also about finding the right moment." (Carl Snewt and Peter Verhelst previously worked together on The secret of the Nightingale's throat (2008) and The boy, the hornbill, the elephant and the tiger and the girl (2015), ed..)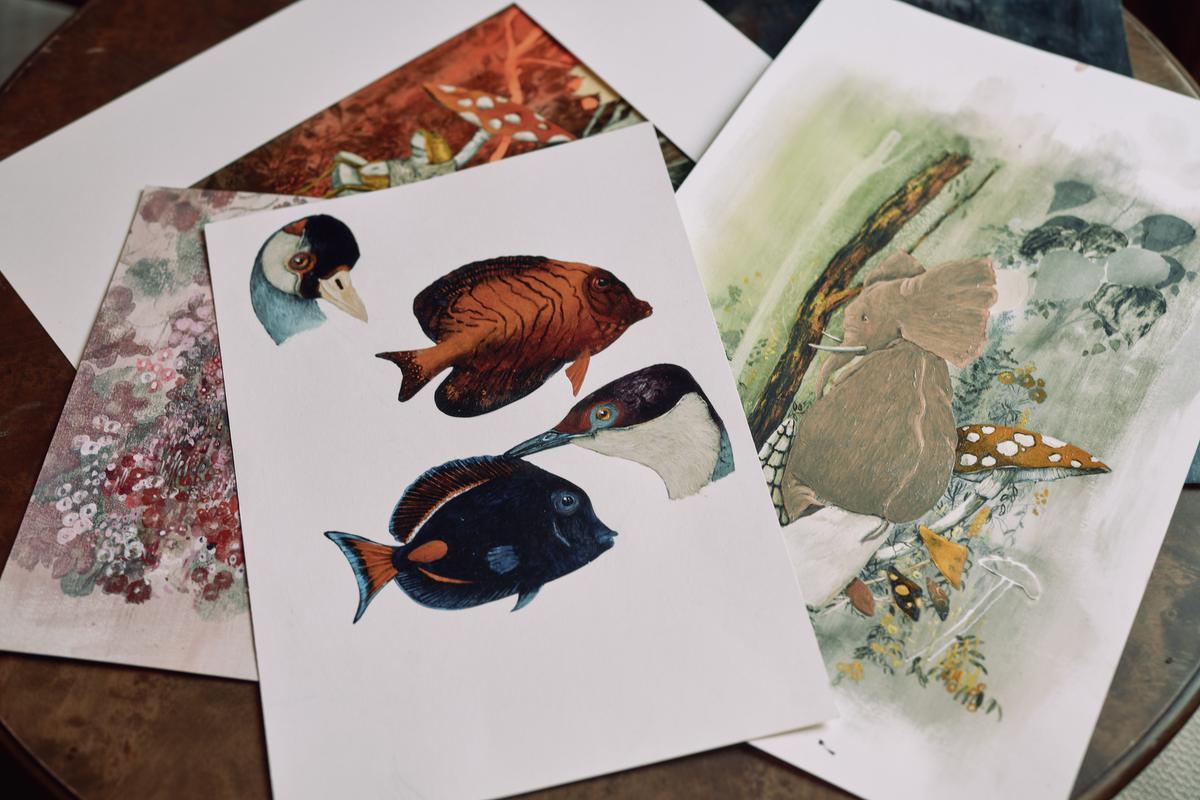 Are you thinking of writing your own story?
"Yeah, I really like to write. I did write the lyrics, but they stay in my drawer until now. I already have a lot to do. And I just love drawing. Painting never felt like a day's 'work'. On a Sunday morning, I don't think about How am I going to fill the day, or drive to the sea or something. No, I think: silence, rest, my drawing board … Hooray! " (Laugh)
An exhibition is already on the agenda for 2023. What's next?
"I'm working on a picture book about Pinocchio. I've been wanting to do this for a long time, but it took me a long time to find the right version. Dutch writer Amy Druce recently wrote a version that I'm very excited about. The book will come out in 2024. There are also plans for an exhibition Peter's Abbey in the coming years, but this is far from realistic at the moment.
There are also coloring and drawing books that young and old can use on their own: paint birds, fish and butterflies to color and complete. How do you see the success of this phenomenon?
"When Golden Cage I came out, I wanted to make some kind of DIY book that everyone could use on their own. It was so successful that the publisher was happy to make a sequel to Fish and Birds. People seem to love coloring, and my printouts suggest that this is also permitted—and preferred—outside the lines. I am amazed at what people do with it. When I see what he sent me, Flanders is far from without talent. But whatever people think of it, what matters to me is that they enjoyed it."
birthday? Reminds me of the strong colors of my collection of vintage trinkets
Do you also love to color outside the lines in life?
"No. In my work, I sometimes think I've gone too far, to tackle something different than expected. But I'm anything but a rebel, more than a good scoundrel. And gladly indeed." (Smiles)
What does fantasy mean to you?
"For me, imagination is: I have no inhibitions when I paint. I have a great visual memory, but I quickly forget everything about the image. So my head stores all those images, and they are there somehow simmer to find its way to the paper later. But this can take a long time. And what comes out in the end is usually very far from what happened originally."
Does our world need more imagination?
"Absolute. There can be a little fun in particular. I think things are often done in this heavy-handed way today. Wouldn't we go further if we approached some topics differently? But who am I? I don't feel called upon to say much." about it."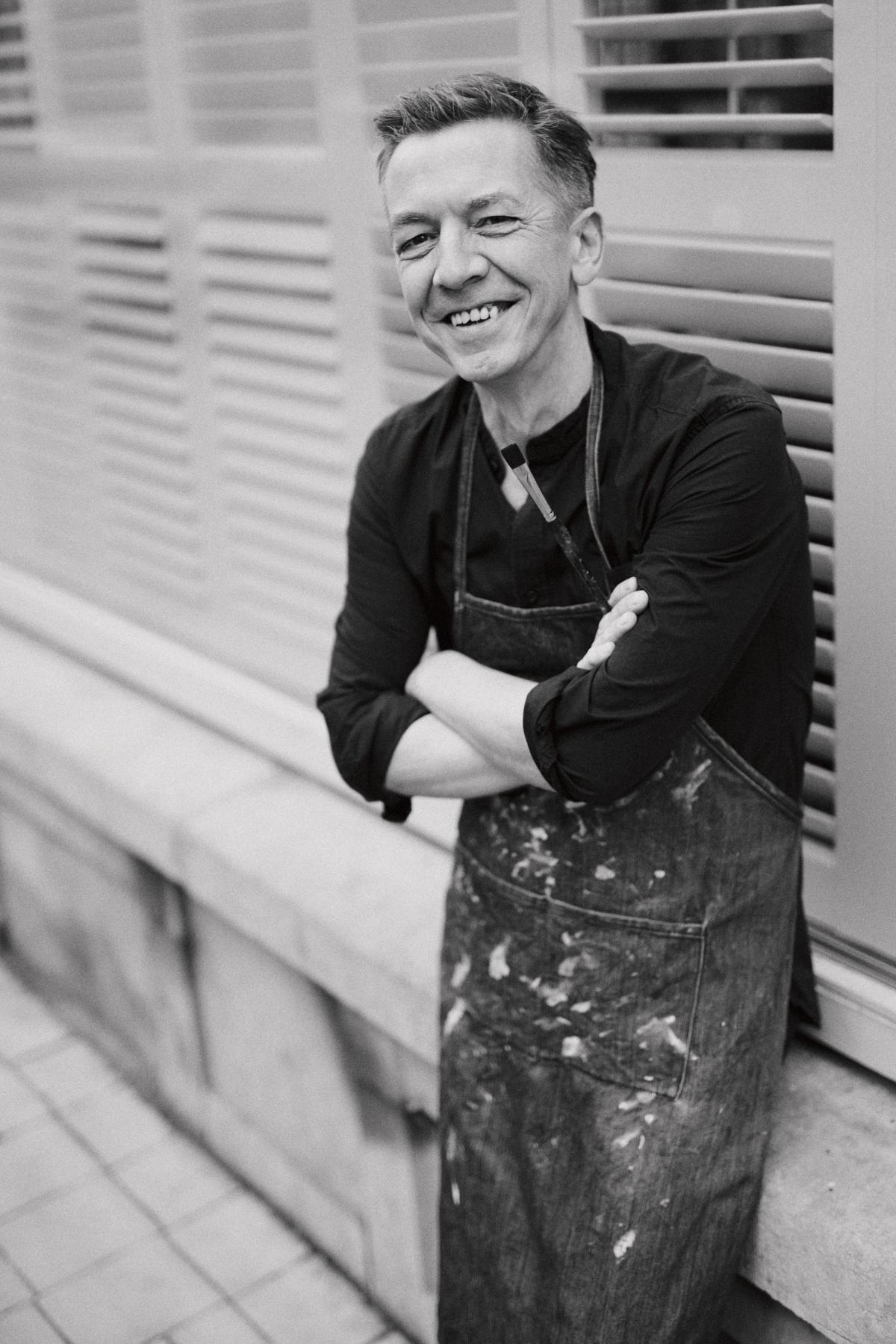 And soon we will celebrate Christmas: what does that tell you?
"Christmas balls."
Mother?
I collect old Christmas balls, yeah.Laugh) It happened a few years ago during a book signing tour through Germany and Austria, during the Christmas period. While walking in Graz I saw a lot of people standing in front of a display case. I also wanted to know what might be admired there. The chocolatier had hung some kind of box on which all sorts of old Christmas decorations hung. Incredibly beautiful sight. What also particularly struck me were the colors of the Christmas ornaments and shapes. Warmer and more intense than any Christmas decorations released today. That moment bit me so much that all the plastic Christmas decorations flew out the door and I've been looking forward to the old ones ever since.
Moreover, I meet with friends and family on those days, like many people. But I really don't feel any different about it."
What crazy project can I wish you as a Christmas present?
"I would give birth is not known. I already have a lot Coincidence I've had so many beautiful projects… what more could I wish for? "
"Or at least! I want to take a picture sometime. Something in ceramics that I'll paint next… My plans to take some preparatory courses for that have been put on hold because of Corona, and now I don't have time for that anymore."
But we can expect a lot from Carl Snoot, as promised. When the time is right.
Who is Carl Snewt?
Carl Sniot, 53, grew up in Giloy (Wervik). He went to school with the older brother of that well-known Gelwinar, Wouter Deprez.
• He studied graphic design at the Sint Lukas Institute in Ghent, where he has lived ever since, and also started working as an art director. But in 1996 he debuted as a comic book illustrator and since then the books he has contributed to and the awards for have been piling up.
• The exhibition in my head (2015) in Sint-Pietersabdij in Ghent has attracted more than 50,000 visitors, and there are plans for a new exhibition on the same site.
• In 2023, from March 18th to April 29th, he will sell 45 of his artworks that will be shown at the Antwerp Gallery WM www.wmgallery.be.
Tips from Carl
If Carl Sniot isn't photographing books, he's reading them. Preferably, these are exciting stories. "I also love True crime on TV or podcasts. I can't really explain why, but if I catch a snatch from it, I always keep watching or listening," he says.
his favourites?
• Silent faith in angels By RJ Ellory: In this literary thriller, a series of ten girl murders grips the village of Augusta Falls, Georgia. After fifty years, there is an epilogue.
• quincunx By Charles Palliser: The author paints an incomparable picture of the lives of rich and poor in the nineteenth century. A story full of intrigue, about right and wrong, class privilege and equality.