News

TIJNJE The Grannies2GranniesFriesland project doesn't just provide homes for Ugandan grandmothers. Thanks to donors, about 150 schoolchildren, who are the great-grandchildren of their grandmothers, can now attend school regularly. Recently, a group of volunteers traveled to Africa to see the results. Rhea Packer, one of them, tells her experience.
We are traveling with nine grandmothers, four partners and two donors. Each time it is hard to see the appalling poverty in which grandmothers and their grandchildren live. In real life, it is always much worse than what you see on TV. Every grandmother has gone through a lot, but this also applies to grandchildren. So we are always amazed at how cheerful the kids are often.
For example, we visit Jane, to whom Omroep MAX devoted an entire broadcast last year. I got a new home thanks to broadcasting. Her life has completely changed. Last year she was such a pathetic group of people, now she's coming towards us dancing. Even now we can tell a number of grandmothers that they are getting a new home. Sometimes it immediately led to immense happiness, with other grandmothers barely reaching the good news at first. A series of new homes are currently being built.
They should be ready by the end of this year, but there are a lot of challenges. The price of gasoline has almost doubled, the price of raw materials has risen sharply and the materials are often in short supply. Moreover, the truck that has to deliver the materials often fails. Fortunately, a good used truck from Japan is on its way.
To school
Thanks to the donors, about 150 grandchildren can go to school regularly. This is a great relief for grandmothers. Almost all of these children get a meal at school. We also see children who get up at six, walk to school an hour and don't come home until six in the evening. without a single meal. During our school visits, we go from one surprise to another. Foster children attend reasonably good-looking public schools or very sober-looking "private schools."
St. John Kissinga Primary School is a government school with over a thousand students. In the first grade of this school, compared to Group 3 in the Netherlands, there are no fewer than 169 students. They all sit close to each other in one room, with only one teacher. There are no books and notebooks. If the teacher wants them to write something, all the children write at the same time with their finger in the air. A weak student does not stand a chance here.
Jinja Twin Elementary School is a "private school", with only three hundred pupils divided into ten groups. Each class has a teacher and a teacher's assistant. School results are good. During Busia's visit, the focus is less on grandmothers, and more on mothers and teenage children. One of our sponsors has built a beautiful school here. The 110 students are divided into three kindergarten classes and four elementary classes.
In the village there is also a group of grandmothers. They show their skills in, among other things, mat weaving, pottery making and wood fire making. Then it was the turn of the teenage mothers. Fifty of them are waiting for a prize goat. They are supposed to get their lives back on track through an aid programme. They must return the first goat to the local organization. He can help another teen mom with that.
Sanitary napkins

Last year we started a pilot project in which boys and girls received sex education and made washable sanitary pads together. Sanitary towels are not only good for personal hygiene, but also prevent school dropouts. Many girls do not dare to go to school during their period due to the lack of sanitary pads. Boys and girls work together on the project. They drew patterns on the fabric, cut it out, and then sewed it by hand. It's special to see how serious the boys are about making bags. We would like to continue this project.
Battle for calf
During each visit we give the grandmothers a party. This time it was all about surviving the economic crisis. Everything showed that this crisis is hitting grandmothers hard. Food was often too expensive for them, but that is certainly the case now. Seeds have also become much more expensive. The situation has worsened all over Uganda due to the increase in the prices of basically everything. Grandmothers are trying to earn some extra money by trading. A few grandmothers own a shop. However, the profit margin for them is very low; If they can't do the math right, they don't earn anything with it. Many grandmothers choose to raise goats. Goats always maintain their value and have become very expensive. As a trade we sometimes encounter a number of goat variations. Some grandmothers keep pigs, one sells coal, and the other grandmother collects bananas to make banana beer.
What is remarkable is that the thriving business produces (only) enough to pay the children's school fees. This is a very favorable development, so the importance to your business is enormous. Unfortunately, things don't always go well. Sometimes goats die or are stolen. There is also sometimes a hospital bill to pay, so that new investments in store are not forthcoming. But overall it's still a huge success. On our way from one grandmother to another, we meet one of the ten groups of grandmothers who are training hard for the competition. At the end of our stay in the project, we give a party. Then all groups of grandmothers perform. They dance, sing, play a skit, and the winning group gets to hurry.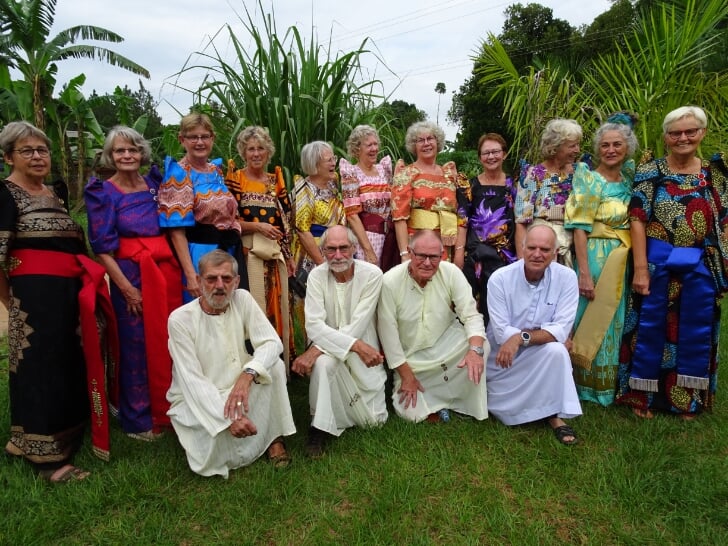 grandmothers
Grannies2Grannies Friesland is a working group from Tijnje, consisting of 11 grandmothers. They support an organization in Uganda, Pefo Uganda, that focuses on the support, empowerment and independence of grandmothers who are in constant care of several grandchildren and often live in mud huts that could collapse at any moment. Frisian grandmothers collect money to finance the homes of these grandmothers, so that they can live in a decent way. Partially through the efforts of Omroep MAX, 260 homes have already been completed. 2granniesfriesland.nl grannies