They have overcome a difficult time and their late arrival is proof of that, Ella has convinced herself. Don't you dare tell anyone that Goa is a gummy girl who hoped to save her marriage.
Ella (40), Lacey's mother (9), Vinny's (7) and Joa's (1):
"On Joa's first birthday, I woke up crying. A year ago, I had a sweet little boy full of hope, and now I was alone in bed, and this little boy, with his brother and sister, was six miles away with his father. I would have given him him in a way that wasn't necessary." , and now to blow out one candle as a family of five, and for Bart and I to look at each other and think: We managed it so beautifully. But alas, it didn't turn out that way.
special stuff
I met Bart when I was 23 years old. He was a friend's cousin and I found him interesting because he was so unobtrusive. Still waters, that idea. We got some and soon moved in together.
Bart and I didn't have much in common, but that didn't matter. We gave each other the freedom to do our own thing. In his case that meant sports, I loved spending evenings with friends. This social, he has less however. He had a best friend and that was enough for him. Sometimes I thought that was unfortunate, but hey, I fell in love with his calm personality.
a future together
We were happy with each other in our own way and were absolutely sure that we wanted a family. When Lasse was born, Bart and I felt forever connected. It was a great feeling, which was made even stronger upon the arrival of Fiene. Family was really our relationship. Together we wanted to give our children a good childhood and a good future.
"He thought I was too loose, and I thought he was too strict."
We always agreed on the broad lines, but in the day-to-day practice of parenting there was enough to disagree about. Cliché, often. He thought I was too loose, too strict. But I thought it was weird that he would let the kids have lunch with a screen in front of them, for example, so he could hang up his phone himself. And since I always open the front door for friends and girlfriends, it gets crazy if more than two kids come in to play. Which he then announced in front of our kids and friends, and I found that embarrassing.
So in everyday life there was a great deal of bickering, but in the end we always worked it out. Of course sometimes I thought it would be nice if we could be more in tune with each other. But hey, the kids didn't suffer, I was sure of that. And you can't always be on the same page, right? I never heard from friends.
attention
I also heard from friends that they were comfortable with their husbands on the couch in the evenings, drinking wine, and having good conversations, I shrugged that off a bit. I had heard that girlfriends sometimes went with their husbands for the weekend or that their partners made an effort for them – and vice versa – in the form of flowers or gifts, but I didn't want to think about it too much. I used to do that, even if it was a bed full of rose petals, but Bart didn't really seem to care about it, and since he never did it himself, I just stopped.
"If you were paying attention, you might have noticed that we were drifting apart."
If you were paying attention, you might have noticed that we pulled away from each other as we barely made an effort for each other. But I didn't care, because I found it confrontational and didn't really know how to solve it. Or maybe I thought Bart should take the plunge, because if you spend evenings watching someone sit on their phone and not say a word, you get a little nasty. I do, at least. So I obviously went to watch a series on my iPad with headphones on and just let it happen.
The WhatsApp
Until I noticed Bart was checking his phone more than usual and I was secretly checking WhatsApp when he was in the shower. Sure enough, there was a whole row of letters from someone who filed under "Lucas' colleague" but was actually named Sylvia instead of Lucas.
"The messages came back about six weeks ago and I was so shocked I started laughing. This can't be real, can it?"
Sylvia wrote that she felt so warm from Bart and was so excited to see, feel and taste him. He, in turn, could not wait for the next morning to meet again. The messages came back about six weeks ago and I was so shocked I started laughing. This can't be real, right?
Adores
I put the phone back down, took the kids to school, and called Bart, who was on his way to work, to come home. He protested, but immediately turned around when I said Sylvia could wait for him a little longer. It was true, he immediately admitted. He had a crush on a classmate, but nothing came of it. Yes, the messages showed something different and they had kissed too, but they didn't have sex. I did not believe a word and shouted that our marriage was over.
"Now that I find out, he will stop. But what if I don't find out?"
I meant it, but once he left and I calmed down, my mind took over. We've been together for fifteen years, have two kids, and let our relationship slip away. Was it strange that one of us fell in love with another? Bart immediately admitted it and said he would stop. I found that very easy too. Now that I find out, he's going to stop. But what if I don't find it? Did he really feel guilty?
Also read – Secretly pregnant: "It was the final blow to our relationship">
drift away
It took a lot of talking and five sessions with a therapist, but then I forgave him and thought it was over with Sylvia. Funnily enough, this issue unsettled us and things went well between us for a while. Bart did his best and said nicer things than ever, and I think that dip surfaced at the dropout and we came out stronger. It gave me new energy to do my best. I've traded Sloggi's sagging clothes for tight underwear, he's put his phone aside for the evening. We didn't lose each other, we told each other.
But after a few months that started to subside. It felt like we were drifting away again. The kids were in school and past the first stage where you need each other so much to keep your family going. That was the point where we were good. Not only practical, but also admiring the baby together, celebrating all these milestones together. We were a real team at that time. I missed that. Which, too, it turns out when we discussed it once.
"Suddenly all I wanted was: a baby, to be pregnant again"
We got nostalgic and all of a sudden I said, why don't we take a third? It was a totally nasty comment, but when I finished saying it, something snapped in my body. Suddenly all I wanted was: a baby, pregnant again, looking forward to something big and beautiful together, welcoming this wonderful gift all together. The child will end this difficult time forever, return us to the nearest place we once were and be the crowning glory of our family. As cliche I say now, it was.
Glue baby
It turned completely hormonal and Bart was also taken by the idea. We decided to think about it for a week. During that week, practical matters also emerged: We had enough money, space, and love. We managed to arrange the time by reducing the work. Lasse and Fiene will love – how many times have they asked for a brother or sister? I only got more excited and exactly seven days later we made the decision. Within two months I was pregnant.
Somehow I knew the decision about this baby was based on something negative, but I reflected it in my head. We have overcome a difficult time, and this baby was proof of that. It was actually a positive: proof that Bart and I would grow old together.
The term "baby glue" came to my mind, but I quickly pushed it away. It looked like that. Besides, a child cannot atone for something that has nothing to do with him. So I called Goa our present and the first time he was there, I felt that way. What I was hoping for also happened: Bart and I were a team again and were lounging on top of the cradle admiringly. I felt like we finally found each other again.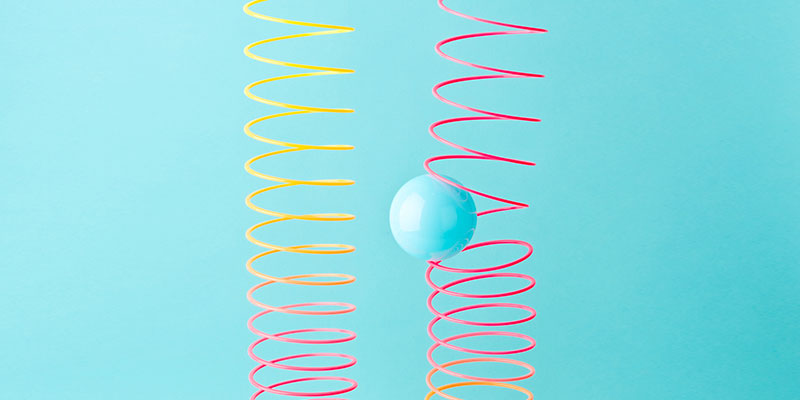 break up
for two months after that. We found our feet as a family of five and daily life continued. I don't know exactly when it started, but I slowly noticed that Bart was on his phone more and more and was less interested in family. We no longer have good conversations. Bart also spent more time at the gym and sometimes didn't come home until eleven at night. The team we made was nowhere to be seen. We seemed further apart than ever.
"The team we put together was nowhere to be found."
I suggested going back to a relationship therapist, Bart said there was nothing wrong. But my intuition said something completely different. So I checked his phone again and in a repeat of what had happened before, I saw a bunch of messages again. from Silvia. Who still wants to feel and taste it.
There is no going back
Bart was taking a shower and I furiously threw his cell phone at the bathroom door. He didn't bother denying it. Yes, he saw Sylvia again and yes, this time he was more in love. And more than just kissing happened. But hey, what did I expect? Our family swallowed me up and I couldn't hold his eyes. It really hurts, because from my experience I did a lot for our relationship. And yet I still wanted to fight for her, Gua was not even three months old.
She persuaded Bart to return to the therapist, but it was all in vain. He was also in love with Silvia, and I am too angry to forgive him. When Gua was six months old, I went to live on my own. Bart stayed at our house. The first night alone I cried my eyes out. To myself, Lars and Vinnie, but especially to Goa. I could never miss him again, but I also know: without the problems of our relationship, he never would have gotten there. And these are the same relationship issues that mean he is now growing up in a broken family and will never see his mom and dad together. I find that very painful.
"Sometimes I feel guilty for having him and then I feel even more guilty about it."
Sometimes I feel guilty for his existence and then I feel guilty for the feeling. All I can do is shower him with my love and I will. Whatever the situation, Goa can't help it. It's more than needed."
This article appears in Kek Mama 11-2022.
Get Kek Mama at a discount and free doormat shipping every month! Subscribe now and pay only 4.19€ per issue.