Shirley Visser is an online editor at Kek Mama and the mom of Skyler and Maddox. In a candid column you write about the many hospital visits with Maddox, who suffers from severe asthma.
"It's almost November and I think this is a terrible month. For two years in a row, Maddox has been admitted with asthma and we have to deal with a nebulizer, prednisone and give oxygen.
Child's anxiety about asthma
We knew soon after his birth that Maddox was a worrisome child. Like me, he had early eczema and allowed us to report to our pediatrician at three months. It turns out that it is not only a predisposition, but also an allergy to cow's milk. Unfortunately, that wasn't the only thing causing sleepless nights: He suffers from some types of allergies and asthma, so we've been on the pediatric ward a few times over the past five years. This is well controlled with a nebulizer, but sometimes we don't make it with this medication and hospitalization is unavoidable.
November is a terrible month for us. For two years in a row, Maddox got accepted this month because he had asthma and we had to deal with a nebulizer, prednisone, and give oxygen. Three times charm? We hope 2022 will be a year without admission, but we fear the worst. We're already working on increasing medications and the line with the pediatrician is short again so we can switch quickly.
We'll spray it every hour.
We've had nebulizers in the house for years because Maddox starts coughing with every cold and can end up getting sick. Fortunately, nebulizers help with that and we quickly get it under control again. But in November 2020, things did not improve and his condition worsened. I went to the doctor with a very sick child and after listening to his lungs and measuring his saturation, we had to report to the hospital emergency department ASAP. There he immediately inhaled, but because this did not get the desired result, his temperature was high, he became very drowsy and also began to vomit, the pediatrician came to tell us that we are not allowed to go home.
A room was furnished in the children's wing where we had to stay overnight. Little sleep will come: "We'll spray it every hour."
oxygen mask
Half an hour later, Maddox was on a screen with sensors all over his stomach. It's awful to see your child like this, but you know deep down that this is the only right place at that moment. We were going to start nebulization and we had to do it every hour, all night. This means that the nurse turns on the nebulizer, your child puts the cap over his mouth, you wait fifteen minutes for all the liquid to evaporate, you rest for three quarters, and then the tone begins again.
Although we initially thought it was going just fine, Maddox's saturation dropped significantly during the night. The screen sounded an alarm and the nurse came in saying, "His saturation is dropping too fast, we'll give him oxygen now." What goes through your mind as a parent is indescribable. Seeing my child lying sick with the oxygen mask on is one of the worst things I can't get rid of my retina. I myself suffer from asthma, but have not had to try it myself.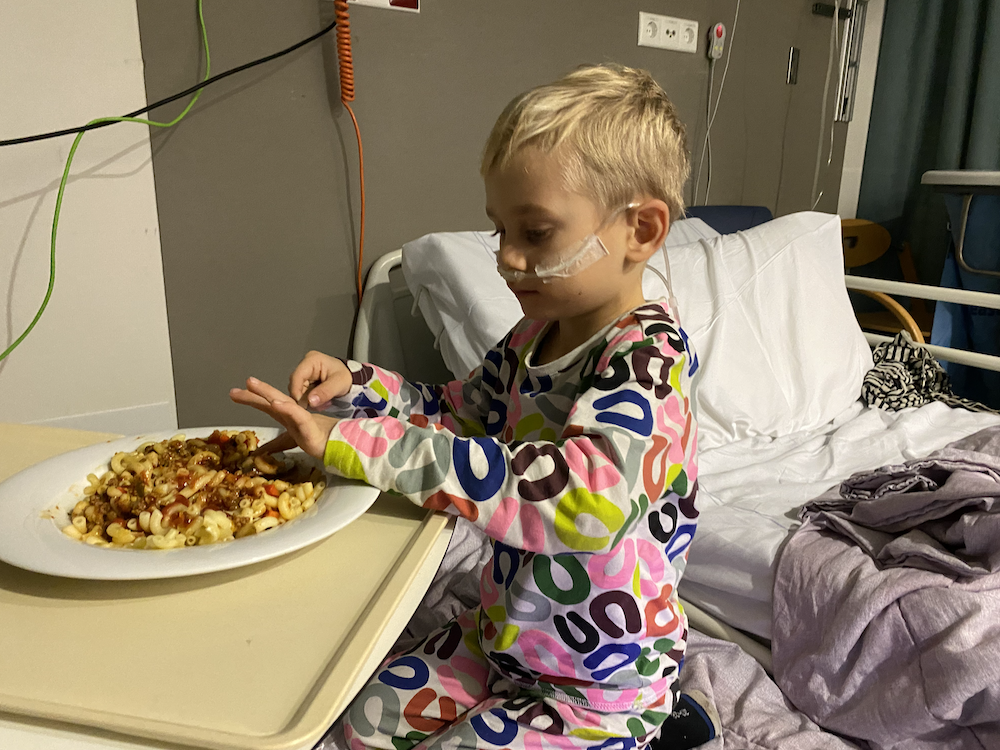 Read also – I am still breastfeeding my 5 year old son
in the breath
In the end, things got a little better the next morning. In addition to the oxygen mask, which was eventually replaced by nasal goggles, nebulization continued every hour and after a few hours the oxygen could be reduced. During the day, even the oxygen was allowed to turn off and we were allowed to drizzle every two hours, then every three hours. This gave more convenience to refueling. Maddox slept like tree trunks and took a moment of peace to catch his breath again, both literally and figuratively.
Because Maddox was given oxygen and was not very stable without nebulization, we had to stay overnight in the hospital. Fortunately the second night went very well and spraying can be reduced to every four hours. So we had a reasonably good night together, and after a checkup from the pediatrician and a good schedule of his puff outlets and prednisone, we were allowed to go home the next afternoon.
A year later, asthma attack again
Unfortunately, it didn't end with this one experience. A year later, back in November, it happened again. We went the same route because of an asthma attack, with another sick child who had to be inhaled every hour and finally given oxygen. But in fact, we were much calmer under the situation now. We were in the right place, we can do it together!
Picnics and games
He now knows what nebulization is and can do it all by himself while watching videos. He really hates oxygen and continues to bond badly with it. Fortunately, the hospital is a positive experience for him. We know what to expect, we stay there in matching pajamas, we have a walk in bed with pasta, we find out that Pete is also filling his shoes in the hospital and we play together for hours. As soon as we have to inform the department, he is greeted with open arms and feels safe. Once he's out of the worst stage, he's a great crook that each nurse wraps around his fingers.
We were recently in the hospital for a regular checkup for his asthma. Once in the elevator he asked me if we would sleep here again so we could take a stroll with pasta in bed together. At that moment I didn't know whether to laugh or cry. It's great that he tested it positive, but you'd rather your child not be so familiar in the hospital, because he's been there so much in his five years in the world.
No matter how comfortable we always make it: this November, I really hope to stay home with him. His shoes look better by the fireplace next to his older brother.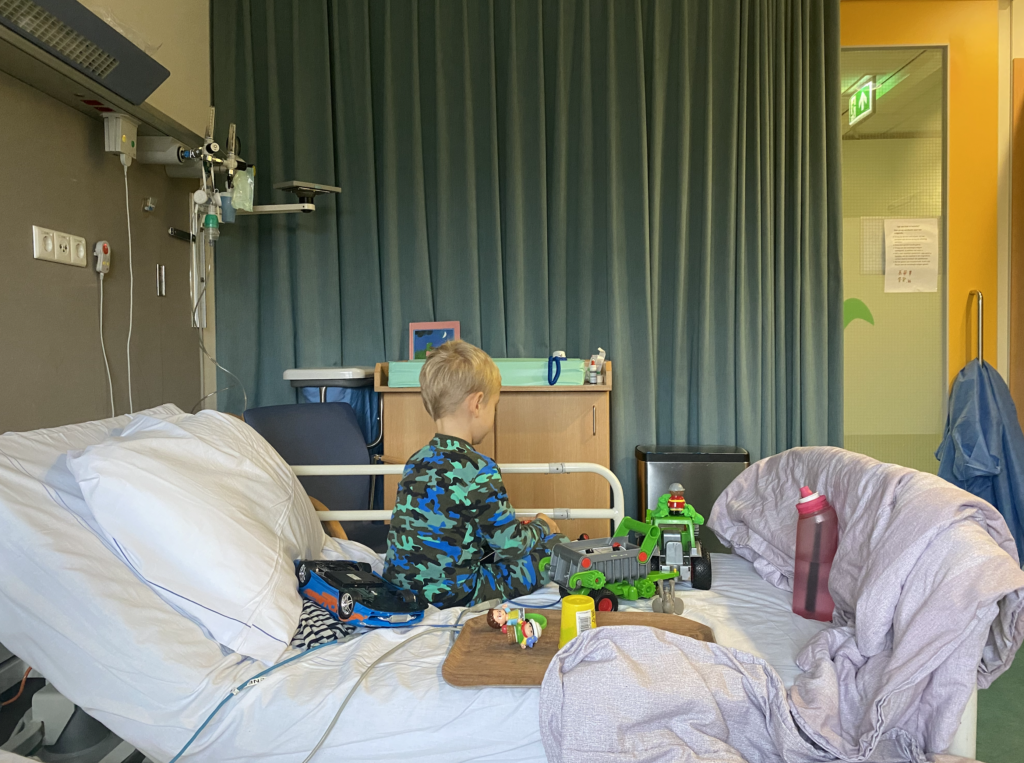 Follow us on Facebook and Instagram. Or get a subscription>