07-19-2022
•
Reading time 6 minutes
•
Zembla has received video images of trucks full of feverish pigs near Boxtel and Apeldoorn. The pigs' respiratory rate rose to 180 per minute, according to a vet who was on the recordings, in a sign of severe heat stress. Under normal conditions, pigs breathe 30 times per minute. Why are animals transported in such extreme heat?
Leslie Moffat, Director of Eyes on Animals, took photos of feverish pigs yesterday near the Vion slaughterhouse in Boxtel. The temperature was between 30 and 35 degrees in that area the whole afternoon yesterday. Veterinarian Kees Chippens was present during the recordings and told Zembla: "The animals showed signs of extreme heat stress. I've counted the respiratory rates of a number of pigs: they went from 128 breaths per minute to 180 breaths per minute. That's very high. Normally 30. I'm angry." Pigs are quickly affected by high temperatures because they do not lose heat easily.
In the Netherlands, it is prohibited to transport or transport animals in a manner that is likely to cause unnecessary injury or suffering to the animals. Transporting animals in warm weather conditions can lead to heat stress and therefore a violation of this prohibition. In practice, this seems to be a difficult rule to implement, because when is it really hot?
There is no transport of livestock above 35 degrees
Since July 2, 2020, there is a policy rule for the transportation of animals in high temperatures. This stipulates that livestock may not be transported at an outside temperature of 35 degrees or more. 30 degrees is the maximum for long transfers. This policy rule does not apply to vehicles equipped with an active cooling system. A proposal adopted by Representative Leonie Festring of the Party for the Animals calls for the maximum temperature for transporting animals to be lowered to thirty degrees. This policy has not yet been implemented.
The animals that were logged into three Voss cattle trucks were from Finn Zolderhead. According to the owner of the cattle carrier, who wishes to remain anonymous, drivers had to wait more than 2.5 hours outside the Vion slaughterhouse before unloading the animals.
Fion Slaughterhouse: This is not what we want
The Veon slaughterhouse says through a spokesperson that it is undesirable for pigs to wait in the heat, but puts the responsibility for this on the carrier: "They are not our drivers. We are a big company and we deal with many different carriers." The problem with transporting pigs, according to Fionn, is that you do it in intervals: "We plan exactly that, because we don't have many places where drivers can wait."
A Vion spokesperson says that the slaughterhouse at Boxtel has nine covered parking spaces: "There are fans in there and the road surface stays wet for cooling." But yesterday afternoon, these places were occupied. Vion says of this: "If the carriers arrive early, we tell them to wait. If it takes too long, the temperature can rise."
Suitable waiting area in the slaughterhouse
The slaughterhouse must have a suitable place to keep it during periods of high temperatures. The waiting area must have adequate air circulation and must not be harmful to animals. But what if the waiting area is full, as in Vion?
The Action Plan for Heat Stress in Farm Animals developed by the Ministry of Agriculture, Nature and Food Quality (LNV) states that waiting time for slaughterhouses should be kept to a minimum in any case. "Good planning and coordination between the various links in the chain (ranchers, conveyors and slaughterhouses) is especially important during hot days to prevent heat stress during transportation as much as possible." So it is not the responsibility of the carrier alone, but also the responsibility of a slaughterhouse like Vion. Two European regulations have regulations that ensure waiting times are kept to a minimum. As the implementing agency, the Dutch Consumer Product and Food Safety Authority (NVWA) oversees the proper implementation of this legislation.
Vet Kiss Shippens: "Pigs can't sweat, they can't lose heat."
The vet owns an organic pig farm. His pigs are also slaughtered at VION, in their organic slaughter line. "The question is whether I still want to work with this company. They make a mess every time." When Lesly Moffat of Eyes on Animals went to see the slaughterhouse in Boxtel yesterday, the pig farmer decided to move on. He says what he saw infuriates him. "The pigs can't sweat, they don't lose heat. When this car is parked, it gets very hot inside. We told these drivers: If necessary, drive in circles, at least there will be some cooling from the wind."
Scheepens also invited Derk Oorburg, Head of Quality at Vion. "We are both vets. I said: Dirk, this has to stop! He says we should make an appointment soon." According to Shakins, the conversation doesn't yield much. Receiver delivered. Orburg does not want to say anything to Zembla, but rather points to the press officer.
The press officer will issue a written statement. This states that the animals were checked on arrival by a Vion vet and another from NVWA. "No special features were found as a result of heat." Scheepens nearly fell off his chair when he heard this: "This is absolutely incredible. Some pigs had a respiratory rate of 180. This couldn't be higher, they were in pain." NVWA Zembla reported that a check had already been conducted in Vion: "It is not about the truck that can be seen in the pictures, because we see pigs with (pre) symptoms of heat stress.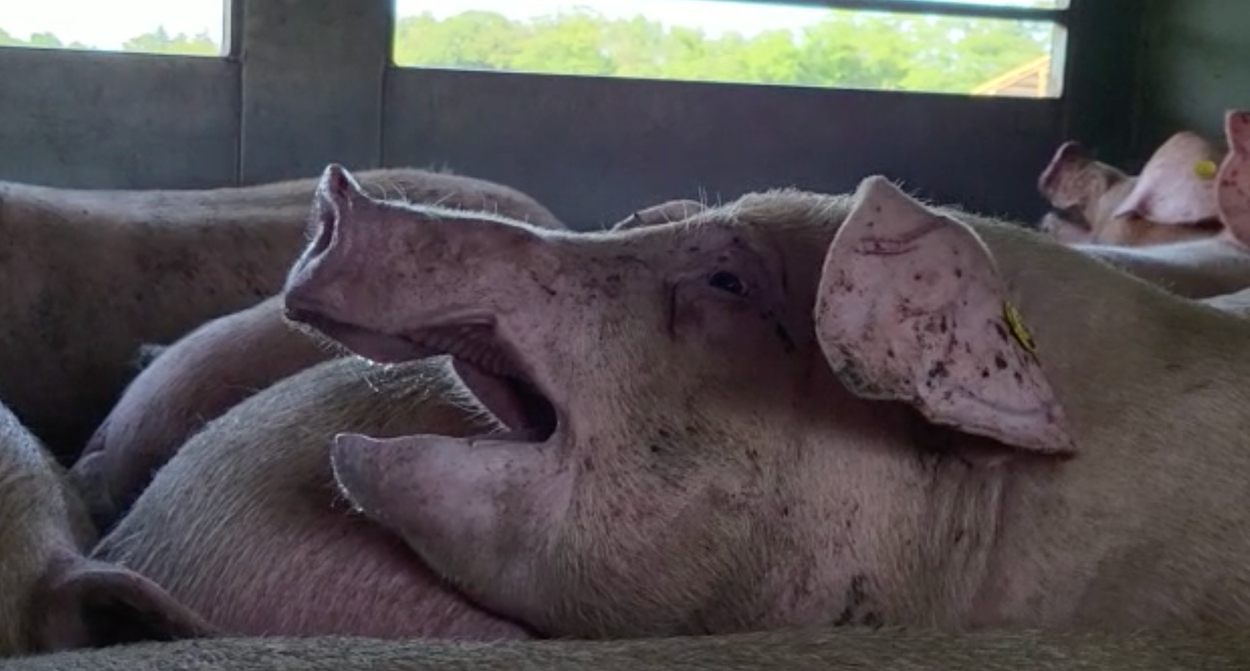 Pigs more than 2.5 hours in heat
In addition to the slaughterhouse, the carrier is also responsible. When Zembla calls Voss Veevervoer, the woman on the phone at first doesn't want to say anything. She says she owns it, but she doesn't want to mention her name. When she hears that according to Vion, her drivers are too early, she picks up yesterday's afternoon schedule. "The first was scheduled for 1 p.m., we arrived at 2 p.m. The second was at 14:15, and we arrived at a quarter to three. The third, scheduled for 3:15 p.m., arrived at 4:00 a.m.." According to the carrier, The trucks waited over 2.5 hours in the heat. It did not receive any reports from its drivers of animal deaths during that period.
According to VION, the last pigs in the Boxtel were emptied today at 11 am. It was about 34 degrees. The spokesperson refers to the heat protocol the company says it uses: "In the stables, animals are cooled with a shower to relax after transportation."
NVWA Reactie استجابة
We submitted the images to NVWA. The NVWA responded with the following answer: "The images show some pigs showing (before) heat stress symptoms. We think this is unfortunate and we took these images as a report. If we see this on site, we can be difficult after that, because we should be able to show where Take pictures, and when the pictures were taken and where the pigs came from. So we advise everyone to immediately notify NVWA over the phone if you think there may be heat stress. Then inspectors can come to the site to see what's going on. We have deployed an additional capacity of inspectors, because the care of Animals are our top priority."
Response of the Ministry of LNV
The LNV describes the images of pigs as "poorly visible". In a written response to Zembla, the ministry wrote: "The animals should be spared heat stress." That's why the department says it's a good idea for NVWA to take the photos as a report. According to the LNV, ranchers need to pay attention to the care of the animals during these hot days. "So even below 35 degrees and 30 degrees, the NVWA can and will act if the welfare rules from the transport regulation are violated, because the animals can also suffer from heat stress."
"The minister wants to continue to take steps to properly protect animal welfare during extreme temperatures," the ministry says of the proposal adopted by Festring that calls for a ban on transporting animals above 30 degrees, "sharp-eyed." The ministry says it is awaiting advice from the European organization EFSA on animal welfare during transport. "It is also providing advice regarding temperature. On the basis of this, what is feasible regarding temperature requirements during transportation will be determined," the ministry said in a written response to Zembla.
Pictures from Apeldoorn
Zembla on Tuesday afternoon also received photos of feverish pigs in a truck near Apeldoorn. The temperature has exceeded 35 degrees in that area since 11 am.