Our compatriot Phoebe Juris (17) won a bronze medal in the time test with the young girls. The East Flemish put into an unlikely final race and took just 0.33 seconds ahead of his Czech opponent. Xaydee van Sinaey finished 23rd. For Belgium, this is the first time ever for a women's rhythm medal at a World Championships.
At the intermediate point, Joris scored only for the tenth time and had to make up over ten seconds in the fight for the bronze. The East Flemish rider from Astiny – a sub-community of Denze – achieved some massive final kilometers and won a bronze medal for the purpose. She has already won a bronze medal at the European Championships. "A conscious strategy," she explained, her relatively slow split after seven kilometers. "I knew the part after the climb had to be my piece. There was quite a bit of incline where I could use my high cadence. I knew I could pick up the speed there. But the last stretch to the end was crucial. Ludwig (Williams, red.) push me. I went up sharply, in the descent after that and in the extension towards the end I really did my best.
Joris was aware of the split times but did not panic. I understood that Dutchman Anna van der Maiden had the fastest time in the intermediate point and that the difference was sixteen seconds. I think it started faster but then stopped. The opposite happened to me, my style was the best.
The difference with the number four, the Czech Kvasnikova, was barely three tenths of a second. "I also won the bronze at the European Championships by four tenths," Joris said with a laugh. "Luck is obviously on my side this year. Being the first Belgian to win a medal at the right time is great and probably inspired other girls to start cycling. But what I think is my own achievement is crazy, just for me.
Orthopedics Studies
Because of the long travel, Joris had to dispense with the support of her family in Wollongong. "But I have already heard from my father and brother. Yes, that was a special moment. Thanks to my father, who is a masseur at Sport Vlaanderen, there is an association with cycling. He has also participated in races in the past, albeit not at a very high level. I have already had my first A race bike for me behind his back, about five years ago. I didn't do more than two races a year and it shouldn't be too far either, because it didn't yield anything anyway. At first it wasn't cycling for me at all. But a trial The time was already there a bit. She continued biting and it paid off.
Joris does not see herself as a mere trial. "I consider myself more of a fast racer," she said. I can also lose my strength in road racing. I may not be a terminator, but I certainly am a helper. Yes, Flemish work suits me. The weather can also be bad. I still have to figure everything out in the coming years, but if I make sure I'm mentally strong, it will be fine. Mentally, that's definitely not my strong point.
Returning to Belgium, Joris began her studies in orthopedics. At Kortrijk it was for me for the Ghent, but they were a little more flexible. I will publish my study and get a high sporting standing. The school year has already begun, but I hope this medal will generate some goodwill anyway. I definitely want to get my degree.
Also striking: Phoebe Joris wears a bracelet made of … bicycle chain links on her right wrist. It rarely comes out. But at Sydney Airport I took it off anyway because I didn't want to be fired. It's not easy, I need a private key for that. And yes, I wore it during the time trial. Aerodynamics? If this was under suit, it wouldn't make much difference.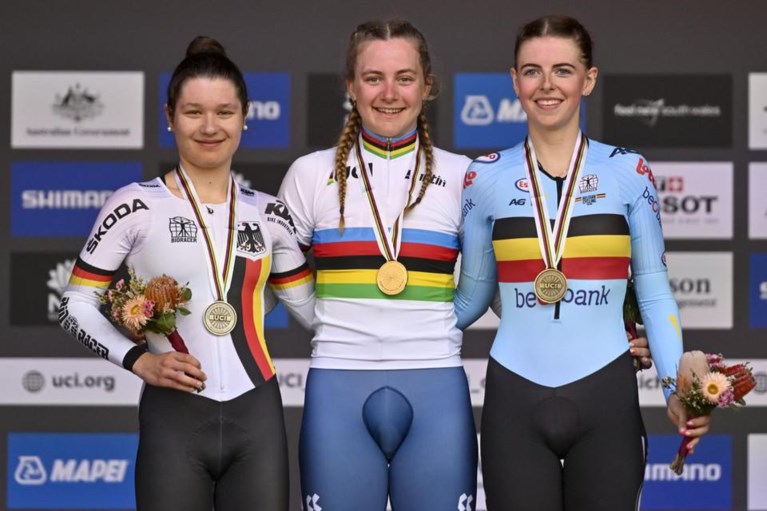 May the Lord protect the king
As expected, the gold went to Briton Zoë Backstedt. She was more than a minute and a half ahead of Germany's Chapla, and Phoebe Juris had to concede by about two minutes. I don't think about it anymore, it's orbiting on another planet. I was hoping the gap would be a little smaller, but it was faster than Van Dijk on the first intermediate point (the Women's Elite winner, red.) , its enough.
Backstedt not only won her 1,000th world title, but also provided a unique title. For the first time in more than seventy years, a sporting match sounded like "God Save the King", Britain's national anthem, which was no longer known as "God Save the Queen" after the death of Queen Elizabeth II. "We attended the funeral last night," Baxtedt said. "It was an emotional moment."