MoMu will soon open its doors again, but fashion lovers will also get their money's worth on the streets of Antwerp's fashion district. The popular fashion runway MoMu now has a sister: The Walk for Fashion and Sustainability. We tested walking.
In the pouring rain, we gather together at the – currently closed – ModeMuseum in Antwerp. It is the starting point for the Museum's new Fashion and Sustainability Walk. In order to properly understand Elizabeth's proof, we all gather together.
After a brief introduction to the fashion scene in Antwerp and Belgium and the term 'sustainable', we began our career in the Fashion Quarter. Don't worry, it's not an interactive tour, but asking questions in between is very welcome. Armed with an iPad full of pictures, Elizabeth, taking the lead, says feel free to call me for more information. The parachutes are open and we follow them in a pack to the first leg of the tour.
Inform, not dictate
The Fashion and Sustainability Walk is not a walk along shopping headlines to show where you can buy sustainable fashion everywhere. After all, there are already well-organized walks for this purpose, such as those of B. However, the guide mentions Belgian fashion brands and initiatives that use sustainability principles during the walk. So smartphones are brought in to get shots of storefronts and to signal interesting brands.
Rather than deciding where to buy what, the walk teaches you what sustainable technologies and systems exist and what to pay attention to if you want to use fashion consciously. Therefore, our guide also delves into history, because sustainable fashion is not a new concept. Just think of the way textiles and clothing were handled during the world wars, due to scarcity. Using a little cloth and mending clothes was pretty normal at the time.
The group of participants we join is made up of people of different generations, each with their own vision of sustainability and fashion. It is remarkable how knowledge of textile processing and repair has been pushed into a corner in recent decades. One participant said, "We still take sewing lessons, for girls at least, but my children and grandchildren didn't learn it in school." Not that everyone should be able to sew their own clothes, but our group agrees that basic knowledge about how clothes are made leads to more respect for materials and textile workers. Walking to the next stop, we had animated conversations about what sustainability means to us. This way we not only learn from the mentor, but also from each other.
The different faces of sustainability
To develop this guided walk, MoMu sat down with Jasmien Wynants, sustainable fashion expert and co-author of Close The Loop, the circular fashion tool. For years, she has been guiding Belgian fashion brands that want to operate consciously, circularly and sustainably. Jasmien is therefore well aware of what is needed to make fashion more sustainable and the ins and outs of the Belgian fashion sector. Her expertise, combined with archival footage of MoMu and an enthusiastic and informed guide, makes for a fascinating and informative tour.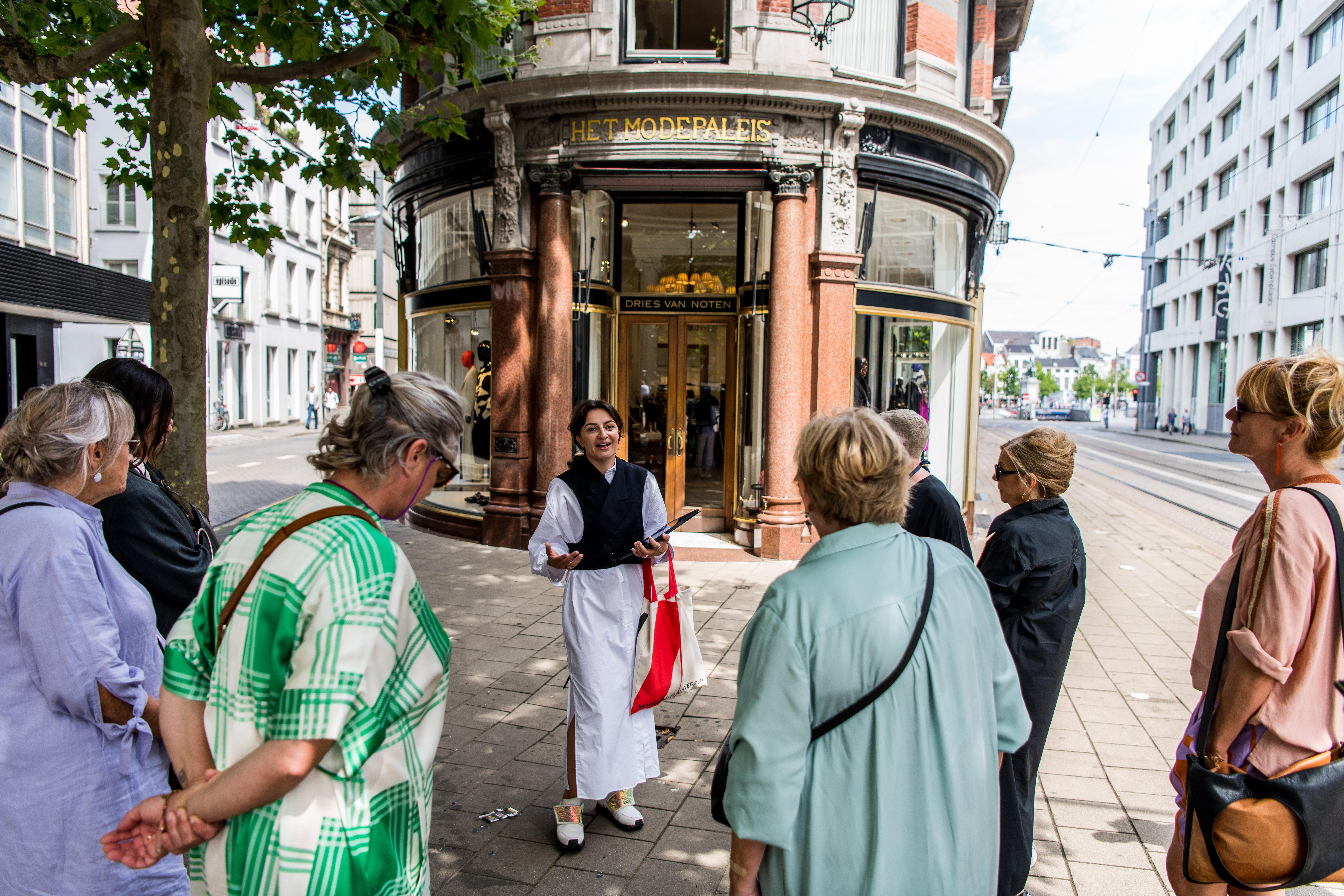 From repair, recycling, and second-hand use to recycling, cherishing clothing and local manufacturing workshops: many topics are discussed during the tour and tell a story full of hope. Although of course some basic principles must be met and green washing is a real risk, the tour also shows that sustainability has different meanings. For many brands and makers, it's more than hype and investments are made in researching the best approach.
Antwerp's fashion scene is already made up of many brands, companies, knowledge organizations and manufacturers who consider sustainability to be of paramount importance. By hearing what Belgian fashion makers are already doing and how we as consumers can do our part, we go home with a positive feeling. It is not a superfluous luxury in times when news sections are dominated by uncertainty and fear.
my work
The tour takes two hours and takes you along the streets of Antwerp's fashion district. She departs at the Nationalestraat, at the ModeMuseum. You can follow the walk in Dutch or English. You can book the MoMu Fashion and Sustainability Walk in a group. Individual visitors can join the boarding tours every second Saturday of the month.
Also note the reopening of the museum on your agenda: Over the weekend of October 8 and 9, MoMu will return with two fall exhibitions, a permanent exhibition, and free guided tours, activities, and workshops.
More information at www.momu.be