The gorgeous DWB mare Lyngbjergs St.Paris has become the five-year-old dressage world champion at the Longines FEI/WBFSH Longines Dressage World Championships for Young Horses. In a beautiful final with one high-quality horse after another, German foxes were dominated by breeder Bente Børjesson under the leadership of Victoria E Vallentin. Second place was Vitalus (Vitalis x De Niro) and third was Prinz's Old Fashion (Forrest Romantic x Sarkozy). Kirsten Brouwer (again) had the Netherlands' best result with My Precious (by Ferguson) in fourth place.
"What an elegant, light-footed mare and what a wonderful hind leg," Judge Monique Putz said after the trial of Lingbergs St. Paris and Victoria E. Valentine. "The whole test was neat, the trotter was light-footed and always had an active back leg. The boat was uphill and jumped well. There were a few tidbits that might have been a bit more straightforward, but we gave this mare a 9.5 for perspective. With its elegance, great back leg and cooperative personality We think she has a great future ahead of her."
fairy tale
Valentine himself could not fully understand it during the press conference. "When the crowd started cheering on the last AC line, I thought it might be a good thing. But I never expected this, this is a dream. It's so easy to ride, I don't even sweat," she laughs. It's actually kind of a fairy tale where a Danish knight goes with her horse. "I ride a lot of horses, but they are very special to me. I bought them when I was a two-year-old in a meadow and always ride them myself. We decided to keep them for a long time. So this is really very special."
vitality
In second place was the large-framed Vitalos (Vitalis x De Niro). He was bred by Joseph Bramlage and scored a 9.8 in his trotting under Leonie Richter. "The Vitalos is a very strong, ready horse and riding Leonie is a very nice test," says Monique Peutz. "He always keeps well erected, lets through beautifully and always keeps moving backwards aggressively. He seems to have a lot of talent for the work put together and we think this horse has a great future ahead."
dream horse
Leonie Richter, a Vitalos rider, rides chestnuts in front of Hengstenstation Helgstrand/Schockemöhle. "He's great. He's been my dream horse since the first day I started at Helgstrand. He's a breeding stallion and has been very busy last year, but he's a beautiful horse and has the best personality you could wish for. He has a lot of strength, but at the same time he feels relaxed and focused. And he always gives everything."
big boy
The Oldenburg stallion Fashion Prinz OLD (Fürst Romancier x Sarkozy), bred by Gestüt Lewitz and owned by Hof Kasselmann, won the qualifying test on Thursday under Frederick Wanders, but had to admit his superiority today at Lyngbjergs St Paris and Vitalus. Monique Peutz: "This big boy is a great horse. When he develops more power from behind, he only gets better. This horse also holds great promise for the future."
"I am very happy with my horse. He is taller than 1.90m, so he has more time. But I know what he can do. He has already made me feel at home. We will quietly prepare him for next year and then we will go for gold!" Wandres replied.
Precious Fourth with Brouwer, Fifth Raccoon with Loos
Kirsten Brouwer rode hard with My Precious, but narrowly missed a place on the podium with 88.8%. Monique Peutz said of My Precious: "A very attractive, elegant, light-footed, hardworking horse. With an active trot and always present back leg. A clean, active step that can sometimes have a little more stride and a jump, which always jumps higher. A wonderful horse for the future!" Ferguson is an elite mare Cinderella Platinum (by Vivaldi). My Precious was bred by Titan Wilaras and registered with their resident rider.
The BWP-approved stallion Raccoon, bred by Arjan Bakers, was already a great qualifying horse under Franca Luce. It was clear at the time that the score could go up, because the stallion threw its head in the air at the first stop.
In the final, the five-year-old stallion showed a great test, showing off a beautiful posture, stable support and beautiful execution of exercises. The jury awarded the test 8.5 for walking, 9 (fat) for trotting, 8.6 for canter, 9 for presentation and 9 for talent. 88.2% of the total.
evaluation
Dinja van Liere with Mauro Turfhorst finished 10th in the general classification today. The son of Zonik was born from the star Hidaylia (s.Negro). The KWPN certified stallion was bred by the Griff family. Monique Potts appreciated it. "A very charming horse. He entered very well and showed a lot of shoulder freedom at the trot. Walk clean and comfortable. In the canter it stayed well on top. He's very diligent in doing that, but he could be a little stronger."
Nice to cooperate
Immediately behind Mauro Turfhorst, the winner of the mini-final was allowed, as approved by KWPN-approved Maddox Mart. This son of Hennessy comes from the elite mare Vanerma (Bordeaux). It was bred by Lia van Baalen of Gellicum. According to the jury, the black stallion has a kind, cooperative nature. It always jogs in balance, with a lot of flexibility and in an upward direction. Runs cleanly and correctly with good transmission. The canter also jumped higher. In addition, he remained relaxed and attentive to the lesson.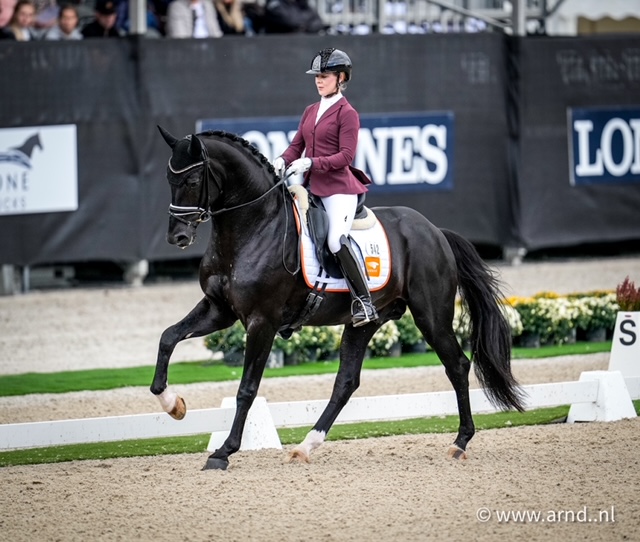 Horse riding advertisement
Henning Lermann, chair of the jury, was full of praise for the quality of the horses and jockeys. "It was an honor for us to judge such good horses. It was also an advertisement for riding. All the riders were riding positively. I think dressage is on the right track with these groups.
result
Source: ErmeloYH / KWPN