Nyakim Gatwish, nicknamed Queen Nyakim, inspires many young women with her story. The 29-year-old model was born in a refugee camp in Dima, Ethiopia, and worked by herself until she reached the top of modeling. Nyakim has faced criticism and struggled with self-acceptance – we talked to her about the important fashion industry, self-confidence and her lingerie collection with Hunkemöller.
Nyakim Gatwech launches her dream lingerie collection with Hunkemöller. Nyakim loves herself and rocks the rarest clothes a lot Confidence – That's what you convey with this group.
In conversation with Nyakim Gatwish
When Nyakim was 14 years old, she moved to the United States, where a whole new world opened for her. Not always in a positive way, because her dark skin suddenly stood out among her classmates, who made bad comments about it. This caused a lot of uncertainty in Nyakim. In recent years she has managed to turn this insecurity into love and self-confidence.
After being rejected by several agencies, she broke through as a model via Instagram. She now has 980,000 followers and is a role model for many young women. She has worked with Rihanna at Fenty and has done photography for major brands, now including Hunkemöller. We had a candid conversation with her.
I was insecure and thought I wasn't "good enough" to be a model because models are supposed to be beautiful – and I didn't feel beautiful.
Have you always dreamed of working in the fashion world or does the young Nyakim have other plans for the future?
"I've always had this dream, at least since I was seven. When I saw pictures of my sister who came to America in 1999 and was a model, I was sold. I found a picture of her on the runway at home and said, 'Oh my God, that's what I want to do it!" But life has other plans. I came to America from Kenya and it didn't go the way I would have liked.
I immediately said "I want to start modeling, I want to see agencies". It was my big dream when I was 15 years old. But life turned differently when I was bullied in high school. It made me insecure and I thought I wasn't "good enough" to be a model, because models are supposed to be beautiful – and I didn't feel beautiful.
I thought work was not for me. So I thought 'what can I do?And I decided I wanted to be a teacher. Children are ignorant so I wanted to teach them about different cultures and different people from a very early age. Education has always been my plan B.
To work in fashion and be a model, you have to look a certain way and I didn't think I fit into that image. I had this feeling from the age of 15 to 22. I finished high school and started college, when I was like, 'You know? Just let me be a model for fun'. So I took pictures, just for myself, because I loved being in front of the camera. Then the picture went viral. I picked it up on Instagram and that really started it all.
I thought, "This is what God has shown me that I can do another way." I was never revealed in agencies, and it never happened. Now I got another chance, so I took it and started working on it. I had a few hitches, but it turned out to be really good."
You have a lot of followers online and send a clear message: You stand for body positivity and self-acceptance. What do these terms mean to you?
"Self-acceptance is a word that took me a long time to really understand and feel. When you look at yourself in the mirror, only at yourself, how do you feel about yourself? That was a question I couldn't answer for a long time. I looked in the mirror and didn't feel beautiful. I thought, if not I could accept myself, the world wouldn't accept either. I needed confirmation from the outside world to be able to accept myself.
Until I knew this wasn't what I needed. I had to accept myself and learn to feel comfortable in my own skin. I look in the mirror constantly to remind me how beautiful I am. Or look at my facial features and say, "Oh, you have a pretty tooth girl!"
When I came to America as a little girl, I had a lot of love for myself, but I lost it when I started feeling like I wasn't pretty enough. The American Beauty Standard really dropped me. So self-acceptance for me is like picking yourself up over the years, allowing you to love yourself and also saying this out loud in the mirror."
Have you ever felt insecure?
"Yes of course. There are times when I doubt what I'm doing. There are times when I get frustrated, but then I have to remind myself how far I've come.
I have to remind myself of my background, who I am and the number of young girls who inspire me and my story. So I can't get frustrated for two days. Maybe thirty minutes, but not more than that.
When I'm having a bad day, I call my mom and she's praying for me on the phone and she's talking to me like the strong woman that she is. It helps anyway to connect with the people I love and express my feelings, it's like therapy for me. The world often wants to hold me back, so I must always remember how much power I have and how far I have come."
You work in an industry that is known to make you doubt yourself, is that something you also experience?
"This is something that I struggle for to this day. I have not signed on to any agency because the industry does not accept that I am 'different.' If I go to casting, I will not get the job because I am not the 'typical' model."
Then I tell myself that I've been given another chance, that my voice will be heard. It's not just about being on the runway or on the cover of Vogue, it's more than just a fashion show for me. Now I have the right to vote for all the young girls in the world who are waiting to be accepted into this industry.
I created my own lane – my own table. And now I invite people and use my voice, which is more fulfilling than just being a model. I'm making way for the little Nyakims, who don't feel they have a way of their own."
Is the plan to stay independent? Or are you ready to sign with an agency?
"Ultimately, the bigger goal is to create my own agency, which will allow me to go home and explore young girls who need opportunities. I feel like a brand and I've created this brand, so the ultimate goal is to give little nicknames around the world the same opportunities."
You seem to be an example to many girls and women. Do you have a role model for yourself?
"Yeah, that's my mom. But when you think about fashion, I look at Naomi Campbell, Tyra Banks and Grace Jones. I saw these beautiful black women and I thought 'Oh my God.'"
But when it comes to daily life and life lessons, she's always my mom. I am very proud of this person. Living from refugee camp to refugee camp and raising only six children, that's okay. She is the strongest person I know."
You have created a fun community around you on social media. Did you call them for help?
"Yes I do. The best thing about my social media is a lot of girls are following me, I didn't know it at first. But when I have the time, I sit and go through my DMs and see many posts from young girls and guys from all over the world ".
And what do they tell you?
"There was one message that stayed with me forever. There was a 15-year-old girl who was bullied. She said, 'I've seen your articles and photos, you inspired me. I'm bullied, but seeing how you accept and love yourself won't make me feel any less than others, regardless. What they say. Thank you, that's why I love myself now. And really broke down in tears."
Collaboration is on the way with Hunkemöller, a beautiful lingerie collection. What is your advice for confidence in underwear?
"I think you should do it yourself. When people think of underwear, they think you're wearing it to impress someone. But it's more about the comfort of your own skin."
My advice is that you should just wear it and see how you feel. You don't have to show it to anyone, just do it yourself and feel comfortable. Ultimately, it's your opinion that matters."
Did you always feel comfortable?
"It took me a while. Not because I was unsure about my body, but about the color of my skin. I felt like I couldn't show it, so I covered myself. I thought if people saw how dark I was, they'd make fun of me. In high school I wore hoodies. And a light foundation on my face. When I think about the past, this was one of the most unsafe things I've ever done. It was upset."
When I hear this and see how you live now, it makes a world of difference. Did you make the switch all at once or is a file ongoing process?
"I'm still learning, so it's an ongoing process to this day. I try to be more confident every day, but sometimes I don't and I just want to lie in bed all day.
In high school, I had a fashion teacher who wanted me to walk for her. I was like, "No, I can't do that." But she convinced me to do a college fashion show, and I felt the show was key. Then I went to New York hoping to start my modeling career."
You have lived in several places in the world, what sounds like home to you?
"I feel at home where my mother is. I can go anywhere I want, but my mother and I are always in touch. Wherever she is, whether in Minnesota or in Africa, where my mother lives is my home."
A bra was not my thing. So when my breasts started to grow, I used my mom's huge bra and tied it around my chest about three to four times. This made my mother emotional because she wished there would come a time when I would get all the bras I needed.
Despite the setbacks, you are incredibly successful as a model and already know many of your champagne moments. What are you most proud of?
This collaboration with Hunkemöller is one of the moments in which I am very proud. Not because I just signed up for a whole bunch, but because they want to hear my story. They don't want to book, photograph and pay me – they want to use their platform to get my message across.
They donate to my country. Something as simple as underwear doesn't come naturally to everyone. Young girls in the house are now asking about my relationship with underwear. It's crazy because I didn't have access to underwear in refugee camps. A bra was not my thing. So when my breasts started to grow, I used my mom's huge bra and tied it around my chest about three to four times. This made my mother emotional because she wished there would come a time when I would get all the bras I needed.
Now that she's launched a group with Hunkemöller, the circuit is complete. This is a job that allows me to use my voice and go home, to give back to those who need it. "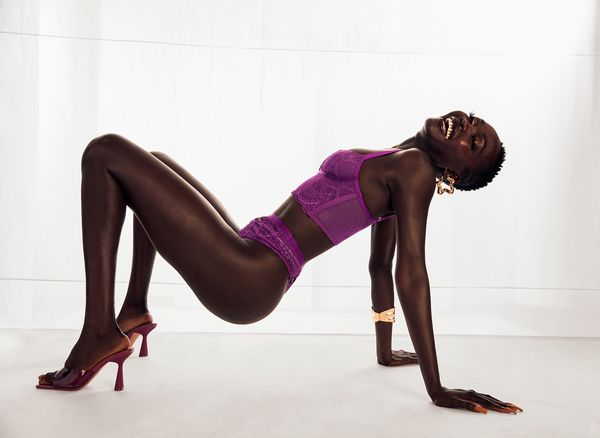 The Queen Nyakim Collection is Now for sale in Hunkemöller Online and in stores. This new collection aims to show women what they can do when they believe in themselves and dare to dream big every day. Available in a range of sizes (from XS to XXXL, with suspenders up to 85G), the set is designed to provide support, flatter and give you a little extra confidence.
Did you see an error? Email us. We are grateful to you.