Castricum / Limmen / Akersloot – Traditionally, the last week of school vacation ends with the construction of the Timmerdorp. This time around six hundred children participated in the three village centers. Nice weather and working together create a nice atmosphere. The editors toured the three Timmerdorpen.
Written by Henk de Rios
At Limm kids can unleash their creativity around the "On the Farm" theme this time around. Job, Seth, Miss, Abel, Mitch, Colin, Seal and Ramon demonstrate with their farm in Orchard No. 1-2 what a collaboration can lead to. It has become a full-fledged farm with indoor and outdoor cattle stables and hay storage. There are sheep and chickens outside. Well, do you walk? Chickens do not sit "on" a stick, but "on" a stick that sticks to the ground. This also applies to sheep. In front of the farm is a mailbox and a carton of milk. Seth has a thing for farmers. They work long hours milking their cows and never take time off. If the milk didn't end up in the supermarket, we wouldn't have any milk anymore." Fact is like a cow.
To show support for the farmers, the boys placed an upturned flag in front of the farm. A little later, Evie (9) tries to paint a wire nail at least 10 cm into the wood. It turns out that hitting the nail on the head is a big task.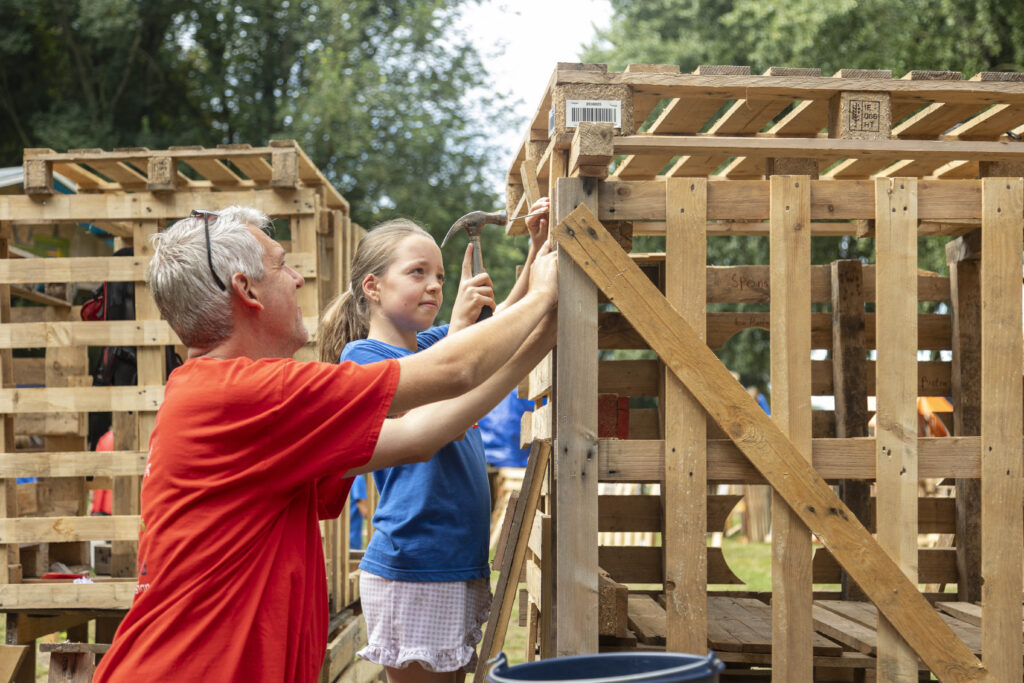 knights and girls
In the carpentry village of Akerslot, the theme is "Knights and Ladies". You enter the workshop via a large medieval castle bridge. At the top, the Dutch flags are displayed on both sides, this time not the other way around. It takes a while to get used to… In terms of entertainment, everything has been thought of. There is a water slide, there are swimming pools to relax in, bouncy castles and a real climbing wall. The familiar voice of speaker Joke de Wit, who everyone refers to as "Juf Joke," reverberates across the floor. Kids who haven't had ice cream yet can get one from the volunteer tent. "Oke (10) and Jimmy (11) have already finished their ice cream. Their cabin is still under construction. They carry pallets over their heads and bring them to the workshop.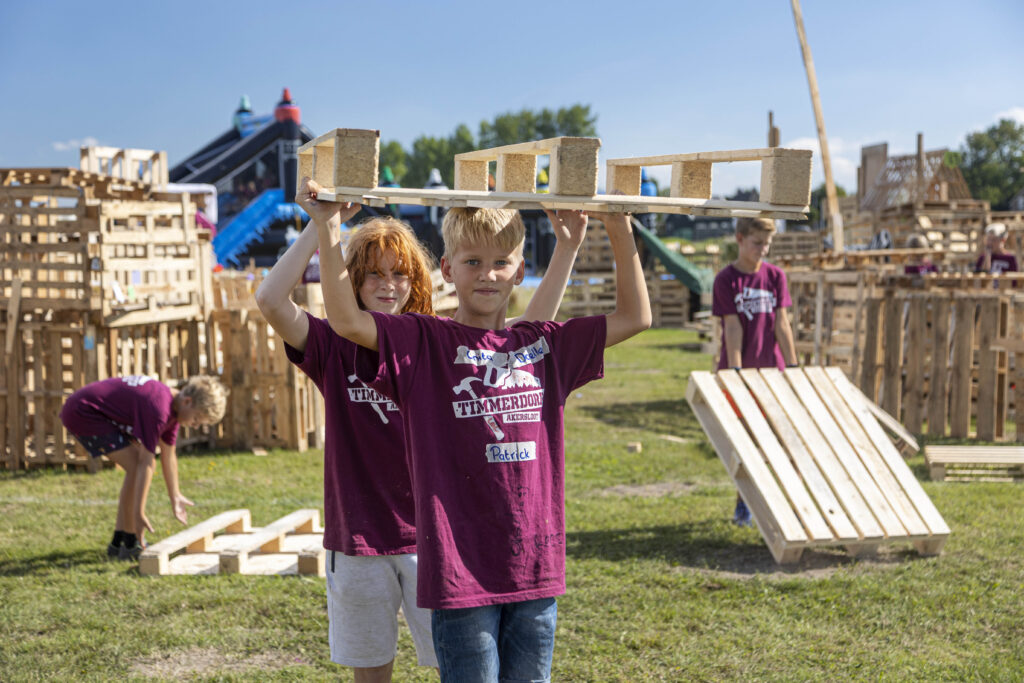 The "ladies" Daphne, Sar, Liv and Julio Koch gave their castle a relaxed, feminine touch. The cabin is decorated with flowers and solar-powered lights. These should make it attractive in the evening. In order to have the knight in shining armor, everything must of course look top. Although the knight has not yet arrived, his horse (the stick) is already waiting next to the hut. This is speckled, so he wouldn't be a knight in shining armor.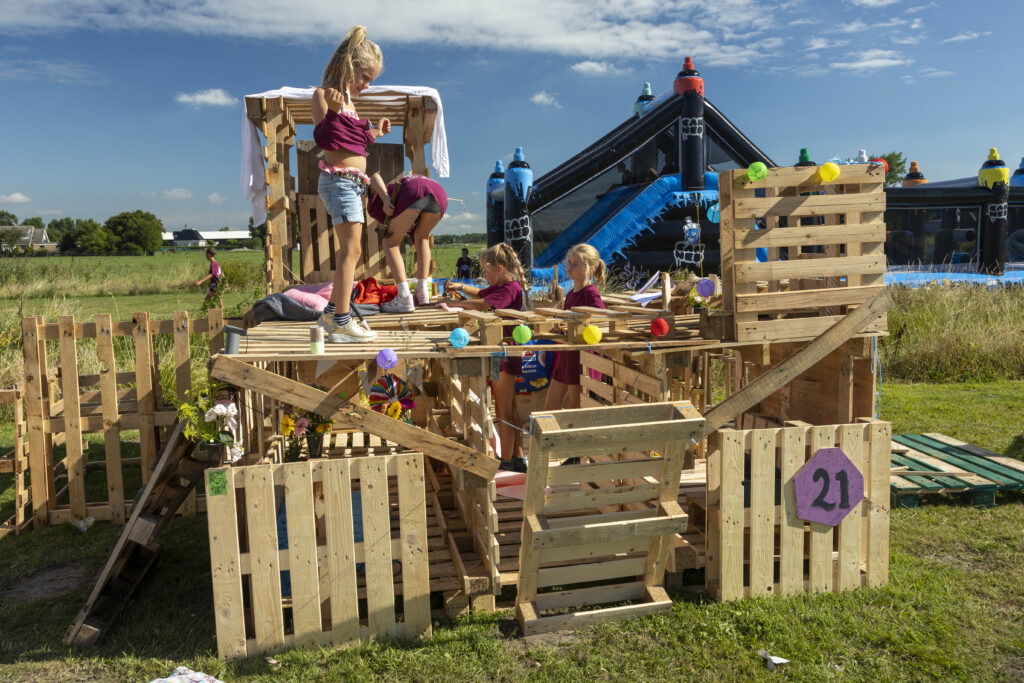 Outside the carpentry village, a number of children are doing amazing work on a climbing wall. scary.
Fifteen years of TiDoCa
Castricum carpentry village has no theme. Timmerdorp Castricum (short for TiDoCa) turns fifteen years old this year. It's time to take out the flowers. This is done with all kinds of games between buildings. Finn and Ovhus use the newly designed hammock during lead time.
A little later, Mel, Moos and Hugo of Willem de Zwijgerlaan (WDZ) announced that pan beer could be ordered. They just installed the joists on the third floor of their cabin. The flag with WDZ is now raised at the top. Mel has already confiscated the first floor as his "room".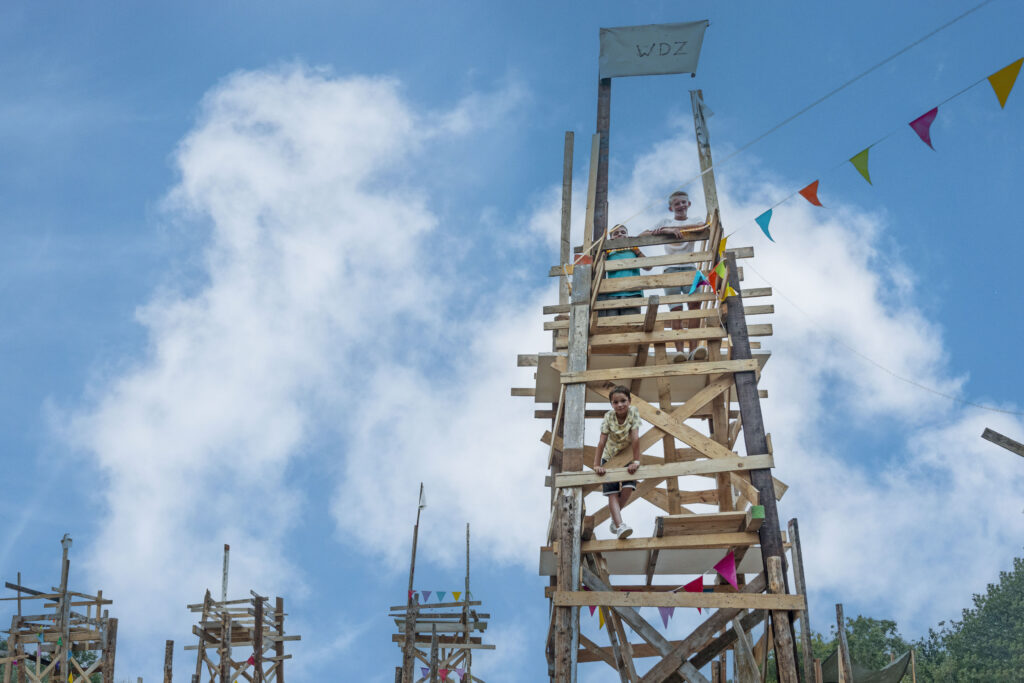 Mark Brahms is already volunteering at Timmerdorp for the third time. He works in construction and arranges for the employer to provide firewood. Like most of the other volunteers, he took days off to be able to come back again. In his case, two weeks. Wouldn't it be better to be in Ibiza? Mark: Absolutely not! This is more fun. It's a virus that you get infected with and you can't get rid of. Nobody can take this from me, not even my employer." He gladly shows that the volunteers are committed to giving the kids a great week.