ModernizationDEN BOSCH – Four knights and fifteen members of the Order of Orange-Nassau, including the couple Coppens-van Griensven of Rosmalen.
Member of the Order of Orange-Nassau:
Outside Noland: José van der Biezen-van der Doelen (59) Volunteer with neighborhood association De Raadhuisrakkers, riding association De Paardenvriend and pony club De Paardenvriendjes and Agrarische Natuurvereniging (ANV) d'n Beerse Overlaet. Jan Heigmans (78) Active in the Guild of St. Anthony Abt of Noland and member of the Churchyard and Garden Group for the Parish of H. Johannes Unthofding. Head Helvoirt (79) Volunteer in the Nuwelant Local History Working Group, the community journal De Klepel and Historical Periodic Track Seeker.
Outside Rosmalen: Julian van der Heyden de Vos (55) is Chancellor of the Primary School De Vlek Rosmalen/Educatief Centrum Sparrenbos, Head of the Preparatory Working Group for Participation in St. Mary's Parish, founder of Joy'n us Choir and member of the New Parish Center Construction Team. couple Theo Coppins (76 years old) and Henny Cobbins Van Grinsvin (78), Theo is active, among others, in the Zonnebloem (Circle of Rosmala), Rabobank Clubsupport and has committed to the parish of H. His wife Henny is a volunteer in Maria Parish and the Rosmala Zonnebloem Department and Rosmala Visitor Service. Will Van Shayk (74), among other things, an assistant nurse at Heilige Annakerk in Hintham, leads the annual construction group to build Annakerk's nativity scene and provides taxi service to less mobile parishioners. Tyne Hutton (82) He is, among other things, co-founder of the Silva Ducis Business Club, a Vincentius Society volunteer and board member of the Hof van Hintham Residential Care Center.
Outside den bush: sIm Sampers Leusen (79) was, among others, a counselor and counsellor at the National Foundation for Parents and Relatives of Drug Addicts, a counselor for the self-help group Parents of Older Drug Addicts and a hostess and canteen manager at Biljartcentrum Maassingel. Willy Josen Nuwens (75) was, among other things, a board member and volunteer of the Annakerk diocese, in the Ministry of Youth Affairs of the Oeteldonksche Club, Foundation October 1944. Martin Helmich (74) He was a member of the OSC Football Club Board of Directors, a member of the Parents' Council for Jeroen Bosch College, an In de Roos supervisor and a volunteer at Anthoniegaarde. Bdigging Loeffen (85) She is the patron of the Bleijendijk Nature Education Foundation in Vught and a volunteer at the Daughters of Mary and Joseph complex. Gus Versfeld (72) Board member and youth coach of the DENO Badminton Club and volunteer at Neptunus Water Sports Club, IVN and Kring Vrienden. Bea Wolf Grevers (67) He is, among other things, Chairman of the Events Committee, Contact Person/Instructor, Committee for Joy and Sorrow and Chairman of the Travel Committee for the Jeroen Bush Choir. Theo Librejits (57) Principal of Brede Bossche School in New South and was a volunteer on the Farent Activities Committee.
Knight of the Order of Orange-Nassau: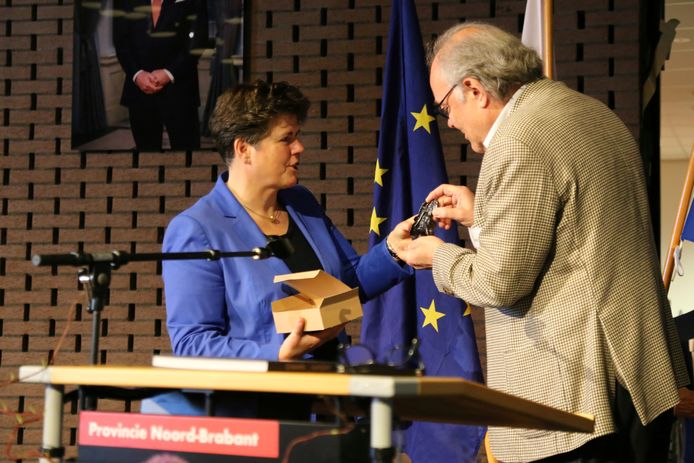 Jerry van der Schott (60) off Noland He was Dean, Clerk, and Guild President of St. Anthony Apt. He is a board member of Gildekring De Hoge Schuts, a board member of Gildekring Maasland, a board member and secretary of the North Brabant Rifle Guild, and a co-founder and president of the Nuland Village Council. Hans van Dartel (71) off Angels He was, among others, Chairman of the Ethics Board Committee within the Professional Association of Nurses and Caregivers in the Netherlands, Board Member of the Dutch Association of Bioethics and the Ginaplan School, Antonius Abt, and a volunteer in the Diocese of Saint Lambertus. Yvonne Schram (65) off Angels He is a former Alderman in Den Bosch and a board member of the Engelen and Bokhoven Board of Directors. Among other things, she has been a volunteer for CNV, KRO and the VNG Committee for Sports, Tourism and Recreation and is a member of the Kansfonds Evaluation Committee and President of Bishop Bluyssen Fund. Bert Bronenkois (72) off den bush He was, among others, President of the Joannes Bosco Foundation for Youth/Children in Disadvantaged Situations, Treasurer of the Foundation for General Practitioners of Pharmacy and Language Instructor for VluchtelingenWerk Zuid-Nederland. He is, among other things, the president of Cappella Pratensis.
Check out our most watched videos here

Unlimited free access to Showbytes? And that can!
Log in or create an account and never miss any of the stars.

Yes, I want unlimited free access