Alice van Zandwijk on the stairs to the costume vault at Bonaventure College. (Photos: Royland Van Willy).
Fifty years later, Alice van Zandwijk left her secondary school, Bonaventura College at Mariënpoelstraat in Leiden. I started there as a first grader. She then did an internship there while she was studying. Then she was offered a job. She stayed at BONA for her entire working life. Now you will say goodbye.
"I don't dare say it, but I started here as a seventh grader," says Van Zandwijk. "My high school physical education teacher encouraged me to attend a sports academy after school. I really wanted it myself. Then I was accepted into the academy. That was very special at the time. Of course I went to do an internship with my old gym teacher."
"When I applied for my exam at the Sports Academy, of course there was no work to get. There were only two people in my last year who got a permanent job. And I didn't even have to apply. I was immediately contacted: We have a job for you at BONA. In that Time, you didn't even think about taking a gap year. I was really happy that you got a job and that you can start your career."
father's school
"I've been in the class for 42 years, plus six years as a student, and I've done some training here. So I've been walking around in Poona for nearly fifty years. That's very long. What I really like is that the character of the school building has been preserved." From the past. But a lot has changed. When I came here as a student, this was only the second year that girls were also accepted into this school. It has always been a Catholic school for boys, "Father's School".
The text continues below the image

Alice van Zandwijk refers to the "fathers" on a school history mural
"I was in a boys' class with two or three girls. There wasn't much going on here at school at the time. It was always about sports and football. That changed with the arrival of the girls. We were going to organize nice evenings. Creativity came to the school: Dancing and acting. At first we had lessons from the parents. It was sometimes hilarious. The boys were always slapped when they did something wrong, but the girls let them go. We prayed every Friday in the church, now the music room."
private input
"I actually didn't leave, because when I was here at school, I already saw how much you can do in 'BONA' as a student. The school grew like weed in my early days. We've had several outbuildings in the past. The students were actually the heads of some The thing is there. The main board was on the Mariënpoelstraat. The management didn't have much from our point of view. As a result, the students were able to develop many of the activities themselves."
"On Friday afternoons we always go to sports or do other fun things. It was always fun. This appealed to me as a student, you can do something you love or you are good at. I had a really great time at school. And I took that with me when I came back here as a teacher." I want students to have fun at school. I was able to achieve this through my lessons, among other things. Most kids enjoy gym classes. They can be fun too."
"Of course the lessons were also about learning things and getting better. But it wasn't like parents: ten times in the ropes, if not, you have three times in your report card. That was really strict. So through my career I was really able to enter Have fun in it. But I also immediately got involved in musicals and trips at school. I actually did all the fun things here at school. Teaching was fun too, but you can do a lot of extras about that."
Musicals
"For example, for ten years we went cycling with fourth graders in France. In the 80s, students were not allowed to go on vacation without their parents. But when you are in fourth grade, sometimes you want to leave without your parents. Then I said to my classmates: We take them On vacation. And so we sometimes went on vacation with forty to sixty children, cycling in Burgundy. This creates a bond."
Every year, one hundred and twenty students take part in school plays. Then there is everything: the orchestra, the dance, the clothes and the decor are made by us. Everyone is involved. Whether you're in seventh or sixth grade, it's all about working together and having fun with it. Then a dozen or so other teachers who enjoy supervising all of this. In the past forty years here at school, I've built a huge theater basement with all kinds of attributes and clothes.
The text continues below the image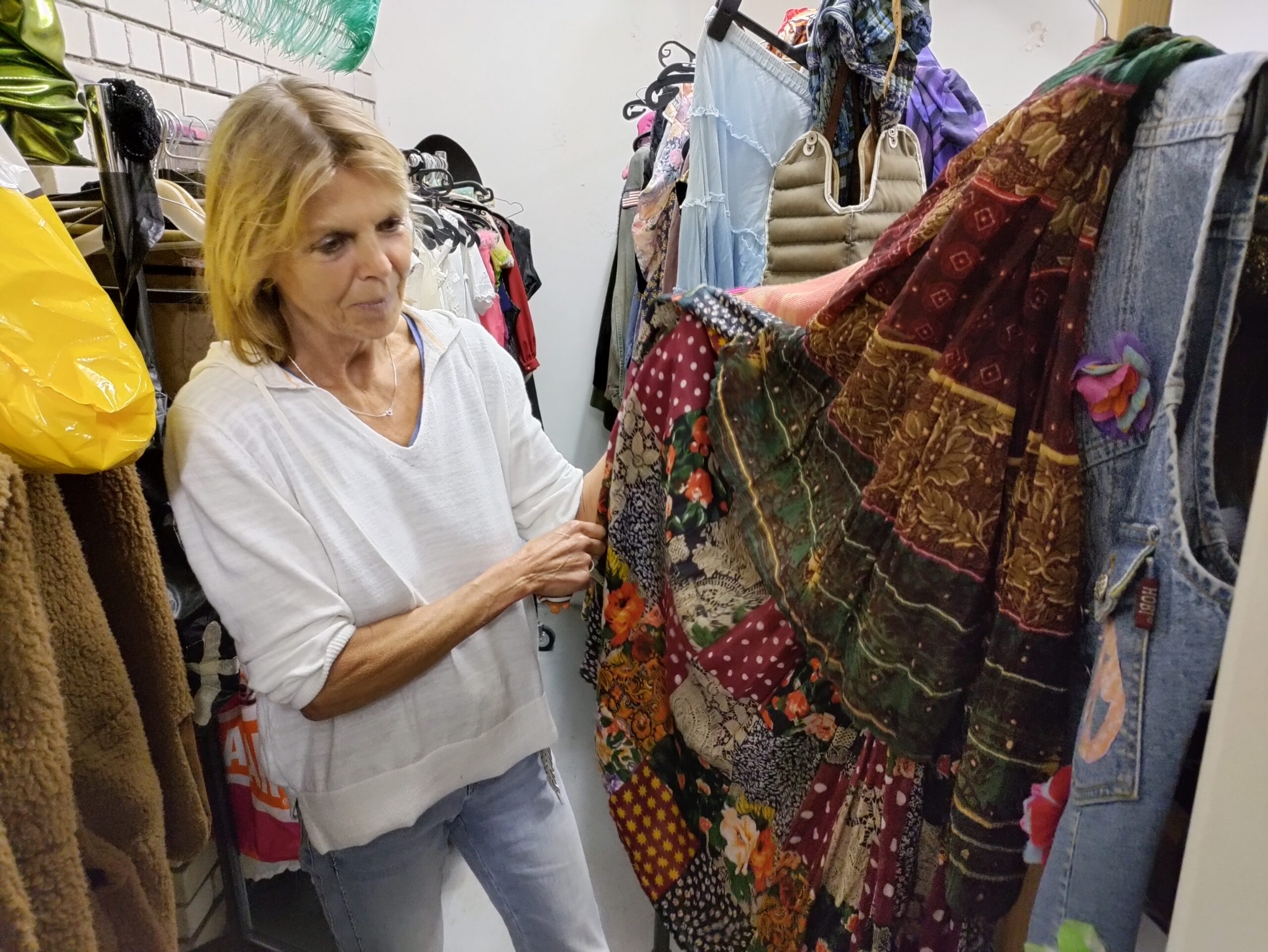 Alice "Hobby Bag". Her nickname is a reference to the name of the Leiden clothing store that rents clothes for theater and cinema.
"They call me Alice Hobizack. If the students want to borrow something here for a presentation, they can pick something downstairs. The costumes for all those musicals are stored in the basement. I actually want to keep using it when I retire. E.g. for the elderly who are going On the Zonnebloem boat. It's a dream of mine to pick things up here and have a party on that boat."
cockscomb
"Kids have changed. When I came to school everyone was still pretty good. At some point, everyone started wearing different clothes. The Beatles were influential. You can really tell about haircuts and baby clothes. At one time you had such a period The villain. It was in the '80s. Then I just started as a teacher. I was very young at the time. Then you suddenly find yourself in front of a group of kids who are about your age, but they don't want to play sports by the rules."
"All those bad guys had safety pins in their ears and cocked handles. Well, but that's not allowed in gym classes, because all those sharp things in your ears are dangerous. That was a really hard time for me. Then I got 'grease time'." Everything became happier and more comfortable. There was also a lot of music. You can also see all those musical trends in the schoolyard, for example hip-hop. There was also dancing. It was never boring here. Every day is different in this The school ".
take off
"Now I'm retiring. I can go on for a few more years. But I actually think young people should be in front of class. There are many unemployed young people in my field. I've been doing this for over forty years and I've had a blast. But as a student, Sometimes you want to have a nice, smooth teacher in front of you. One who can get stuck in the rings. I've had some injuries over the years. I can't do that anymore."
"I still have time to do other things. I don't know what yet. That will be my thing, I say goodbye. This school has been almost all my life. It has been my working life, but there was also a lot of hobby in it. I will think about what I can do now."
Leiden community education