A ball, a scooter, a pair of badminton rackets, a Frisbee, a costume bag and a playground they can run on. The seven children participating in the summer camp "Halo City" in the North Moscow region need nothing more. On the runway of the basketball court next to the school in a suburb of the Russian capital, they are constantly running after each other. Two boys about ten years old beating each other with a bat laughing and laughing, another climbs a tree like a panicked squirrel while a peer chases after him with a unicorn wreath, and soon after, in the quietest of the group, he draws an angel having the ground, then wipes it with the sole of her shoe.
On the side stands Yekaterina Nyasheva, the initiator of the city camp, which began a week ago. Together with her fellow volunteers, she organizes a creative program every day of the week for children and teens who have "experienced emergency migration". In other words: children forced to flee violence in Ukraine in recent months after the Kremlin decided on a "special military operation" in the neighboring country. Nenasheva helps young participants explore their new home by visiting museums, conducting scavenger hunts, teaching art and making new friends.
Today, for example, the collection went to the Tretyakov Gallery, a famous museum. Although ten-year-old Ilya, who recently fled from Severodonetsk with his family, admits to the indifference of a novice teenager that he did not like him very much. "I actually didn't have a favorite painting." On the other hand, his counterpart Katya, who also fled from eastern Ukraine, already has a rather developed artistic taste. "I really liked Malevich's paintings," she says with a smile. Although she also found the search via the Moscow metro, the next in the program was much more exciting.
There is no safety net for children

Nyasheva listens to all of this with a smile. That's exactly why the project was started, she says. The 28-year-old artist and activist has been working with children for years and is particularly committed to young people with mental health issues. "In Russia, there is a complete lack of proper care for people with psychological and mental problems and there is no special safety net for children."
When the Kremlin decided to invade Ukraine at the end of February, the first refugee children, mostly from the eastern Russian-speaking part of the country, came to Russia with their parents (according to the Russian government, about two million people, at least 340 thousand. A thousand children) Nyasheva learned about Immediately what she should do. "These children come from a hopeless situation and have suffered a lot compared to their age. Here we try to help and integrate them by showing them around the city and putting them in contact with other children."
14 days in prison for 'Peace Dinner'

The current form of Nyasheva's activity is to speak out against the "special military operation", since at the moment active resistance is almost impossible. "As much as I would like, demonstrating publicly or organizing hilarious protests is difficult at the moment. Even the slightest resistance leads to arrest and imprisonment." And you must learn Nyasheva. On March 3, exactly a week after the start of the "Operation", she organized a "peace dinner" in Moscow.
An event where people can gather to talk privately about the stress and feelings they experienced after the "military tragedy". Soon, security forces stormed the place and arrested Nyasheva on charges of "resisting and disobeying the authorities". The next day she was sentenced to 14 days in prison. "To have dinner with like-minded people," she would like to emphasize again.
One nightmare after another

It certainly wasn't the first time an art activist had dealt with repression by the authorities. During the seven years she has been resisting the Putin regime, she has gone from one nightmare to another. In 2018, for example, she actually got into the security services of the so-called Donetsk People's Republic in eastern Ukraine when she visited her grandmother's grave with a friend. She said she was arrested and questioned by the police on the second day of her visit. At the station, officers handcuffed her and put a bag over her head before ending up in the back of a truck and taking her to an unknown location where officers brutally tortured her and her friend.
A year ago, she was also arrested on Red Square in Moscow while wearing virtual reality goggles in front of the walls of the Kremlin, where, as a deft protest, she watched pictures of psychiatric clinics in Russia where detainees are forcibly admitted. When police officers arrested her, they told her "it is strictly forbidden to be in virtual reality in public space". Because they added, "This is the real world."
This was not the first time that Nyasheva had ended up in prison. Between 2015 and 2017 alone, she was arrested five times for her activism.
The children were severely traumatized

In any case, since the outbreak of the "special military operation" in Ukraine, pretense carries more risks than before. With the introduction of a raft of repressive laws earlier this year, there is no longer room for maneuver and the government is brutally crushing even the smallest of resistance. "Maybe later I will find new ways to resist, but for now my main activity is to organize this camp to help children with their psychological problems."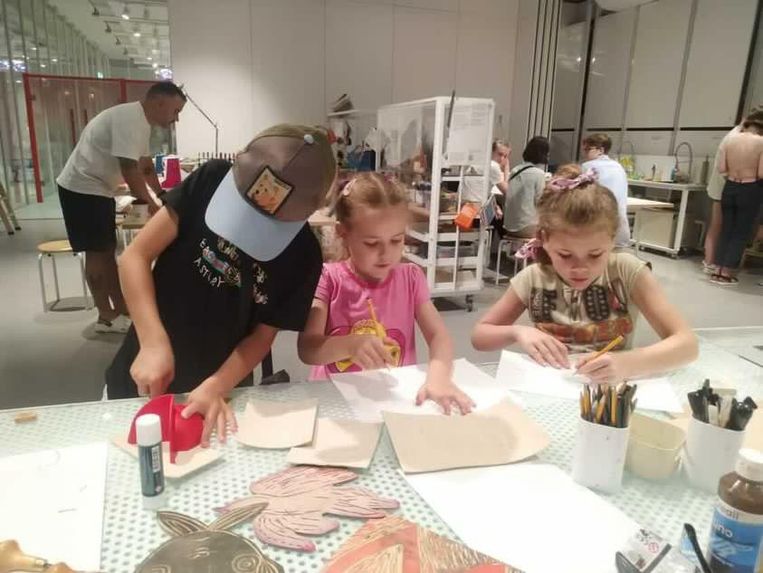 And in recent days it has seen that this is necessary. "These children come from a state of war. They are very closed off and hardly talk about what happened to them. They are still in the midst of trauma and have no idea how to deal with the loss of their homes or deceased relatives."
For example, she cites a nine-year-old boy who was at a city camp a few days ago. He fled with his mother from Mariupol, the city in southern Ukraine that was completely destroyed by the Russian army. His house was destroyed and his father was killed in a missile attack. When I asked him how he was, he replied that everything was fine, because it had been some time. While he lost his father less than a month ago.
Hitting people and seeing my friends cry

It is an illustration of the mental state that children live in. This becomes clear when ten-year-old Renata, who fled Ukraine with her mother in March with her mother, completes homework at the school desk, on the basis of which counselors monitor the mental health of children.
Asking the paper what her favorite activity is, she responds with "hitting people and seeing my friends cry". The other answers also talk about volumes. What do you miss the most at home? 'no one.' What happened before you left? 'nothing.' What do you do to calm your mind? Being alone and not talking to anyone. And what are you afraid of when you go to a new school? "People, being among the people."
moral duty

It penetrates Nenasheva's heart and you will never get used to it. But it seems to be her moral duty to do the job. First of all, of course, for the children themselves, but also because she wants to do something in Russia. She refuses to leave her homeland because it is now important to provide support and offer any form of resistance in every way. "This is my way of protesting. I refuse to leave Russia because I am part of this country. In the West they have to see that Russians are not blind and that we know very well what is going on. We are not a backward people and Russia is more than Putin alone."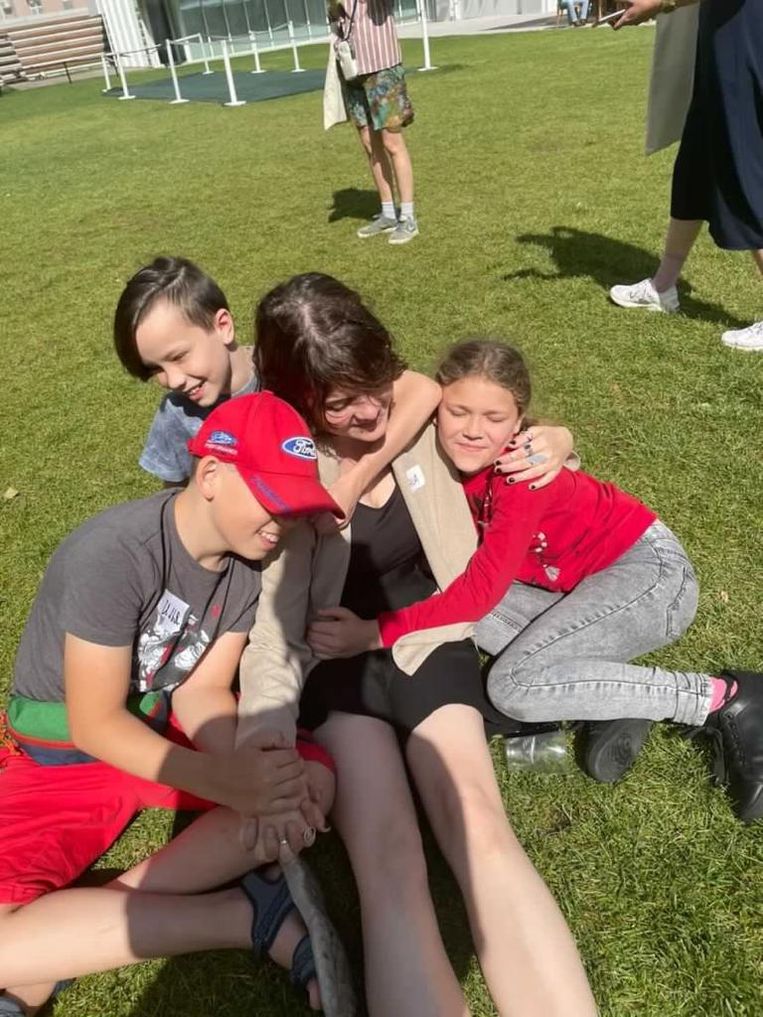 However, feedback on her project is not exclusively positive. At first, Nyasheva wanted to organize a summer camp in the building of the Russian Orthodox Church, but the church retreated. "They asked if they were just children from Donbass or if they would also include children from other parts of Ukraine." What does that mean, she asked, astounded. When she explained that any welcome child needed help and was being registered by their parents through closed online chat, the church withdrew. "That's how far the influence of the state and propaganda goes," she sighs. "Obviously there is only room in this country for Russian-speaking refugee children as far as the government is concerned."
"I don't know fear anymore"

It makes you desperate, but she doesn't want to give up. Through an acquaintance, Nenasheva ended up in the private school where she can go about her business without any inconvenience for the time being. "With a team of volunteers and donations, we can continue to help these kids and organize activities for them," she says before a guest appearance by a "soap bubble artist" who uses soapy water to shape shapes in a classroom at School Makes the place where the scent of hormonal teens penetrated the paper the wall. The group of children watch with wide eyes as the performer fills the room with hundreds of soap bubbles, before jumping up screaming to ask if they can try it too.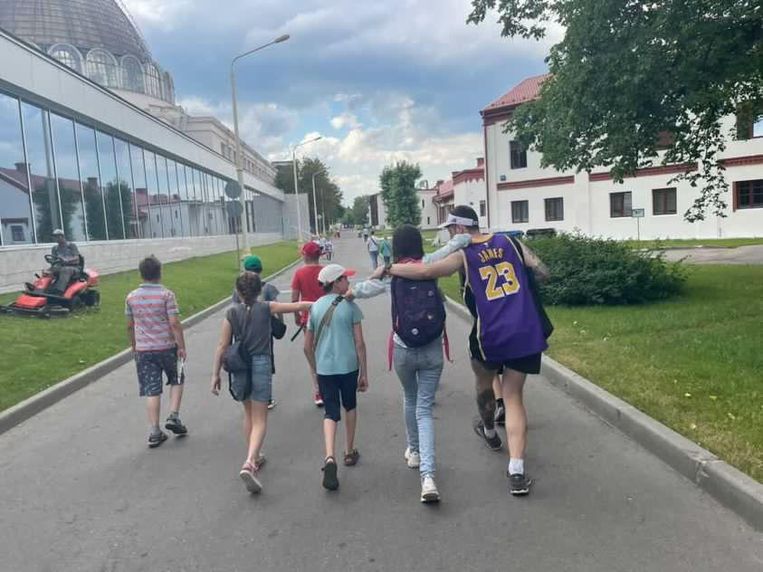 Nyasheva is good to see that children find the necessary distraction. Although she also understands that even these types of projects have risks. She is not afraid. "I have been an activist for seven years and have been through a lot. I was tortured and arrested several times and spent hours in prison. I no longer know fear."
However, the reactions she gets online on her project, especially on social media, drives her crazy. People often get angry because I take care of children in the country of the abuser. But what should I do? Drop them into the hands of some state institution and brainwash them with propaganda? I don't believe in that. These children deserve to be saved, like any child."
Read also:

Life in Moscow is carefree, almost peaceful: "in fact everything is the same, while everything is different"

Life in Moscow goes on as if nothing had happened. At first glance, no one seems to be involved in the "special military operation" in Ukraine.