The 10th World Meeting of Families (WMOF) took place in Rome from 22 to 26 June. Marriage and Family Officer Elise Bangma-Mertens and her husband have been delegated from the Netherlands to attend these World Family Days. She talks about the meeting in three parts: Part 1 below.
Last month, I had the honor of attending the 10th edition of World Family Days with my husband, Remco. It took place these days in Rome on the theme "Family Love: A Call and a Path to Holiness". It was a very special and beautiful time that we heard and witnessed so much. Some things haven't sunk in yet, but I'd like to give a small description of our experiences and impressions.
It all started on Wednesday, June 22nd, after a prosperous trip and a little tourist trip, we were welcomed to Paul VI Aula in the Vatican. This hall is huge and it was quite impressive to enter it for the first time. But it was even more impressive, even for my husband who is an architect, to be in the room with people from all over the world. You know you're there for the same purpose and it's remarkable. There was unity in the room that beautifully expressed and made tangible the relationship with the universal Church.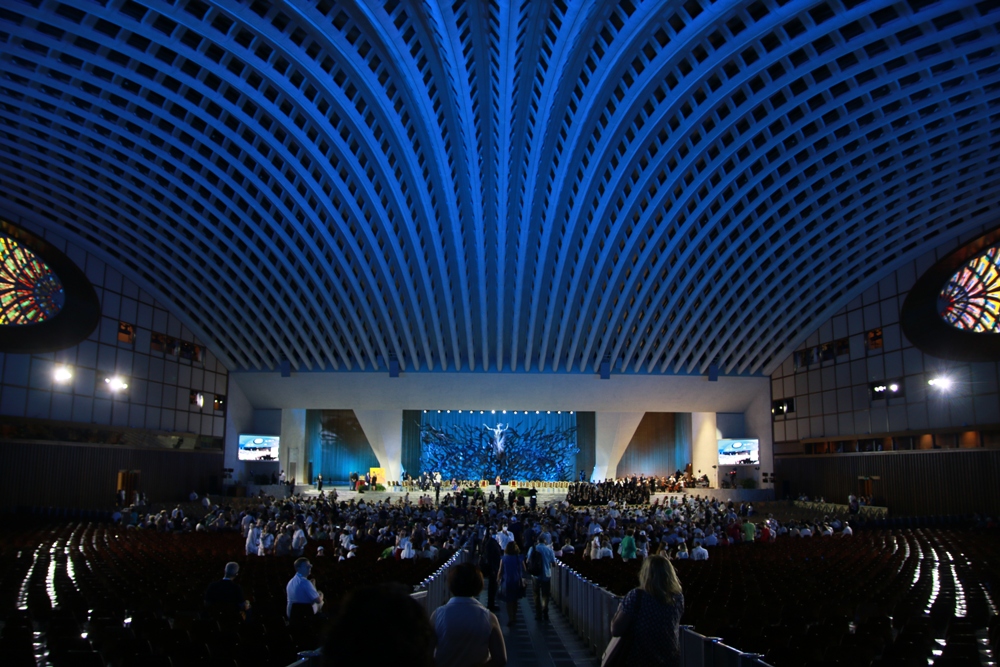 The first thing in the program was a "Family Festival". An opportunity to celebrate the family with music and testimonies in the presence of Pope Francis. After the testimonies of 5 spouses, the Pope gave a beautiful speech in which he wanted, first of all, to encourage families to walk together: together as spouses, together in the family, with other families and with the Church. He also hoped for a church like the Good Samaritan. The Church that approaches, helps us continue on our way and move forward, no matter how small or large. One of the testimonies was given by a Ukrainian mother and her daughter who were under the care of an Italian family. The Pope addressed this in his address, saying that a "welcome" is a real "attraction" for families. In the family we experience what it means to be welcomed. Receptive and generous families give "warmth" to society, without a family society becomes cold and unbearable. The Pope concluded his speech by asking in prayer that we think about the step that the Lord asks of us. Nice question to take with you for the rest of the days.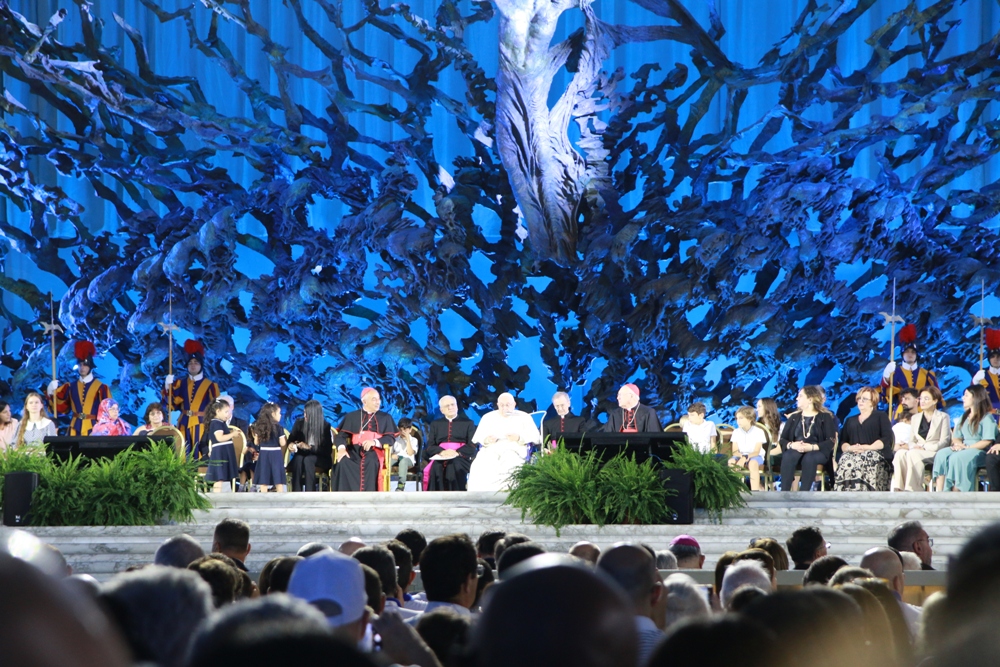 We started Thursday with the Divine Liturgy in St. Peter's Basilica. A great and beautiful start to the thematic program.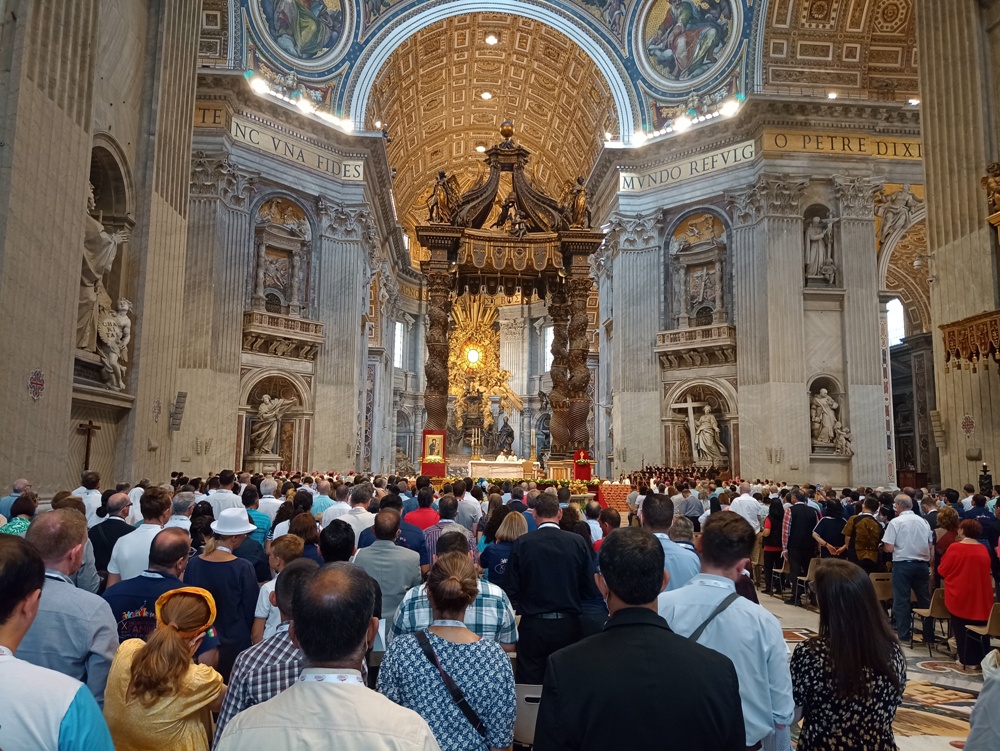 The rest of the day was filled with lectures and panel discussions. The panels were not interactive, so it was mostly one-way traffic. Many nice things were said, and some of the lectures/seminars were more realistic and practical than others. I must admit we didn't attend all the seminars, because we also wanted to have some time to let what we heard sink in and talk about it in peace. One of the lectures that made such a great impression on me was the first one given by a couple from the United States, Gregory and Lisa Bobcack, on the house and congregational church. When we talk about "Catholic spirituality" we often think of monastic and priestly traditions. These traditions are very valuable, but it is sometimes difficult to implement them in a busy family life. Gregory and Lisa showed that there is a new movement in the church as there is more space for the home church. They have provided the following definition of the home church: a house of people united with God and with each other through the sacramental life of the church and committed to living the Christian vision of love in their relationships with each other and with the world. They also spoke of a "liturgy of the home church" consisting of 3 rites: 1) Christian relations, 2) family rites, 3) Exodus. The relationship between the three rites of the home church liturgy is similar to the steps required to light a fire: a spark. kindle. Fire! The rite of Christian relations ignites the spark of God's love in the home and fills everything that the family does with sacred warmth and tenderness. Family ritual rituals provide an ignition that makes it possible to capture that spark and keep the fire burning. Exodus rites provide the light and warmth that draws the world to Christ. All of them are necessary.
I hope to be able to apply this 'framework' in my family, but I would also like to investigate how we can apply this in and from the diocese in pastoral care.
It is with enthusiasm that I can describe and explain each lecture and discussion board in detail, but that is not entirely the purpose of this report. In the coming months, more articles will appear in which I explain a specific topic in more detail. But I will try to tell you a little more briefly what we heard and did.
The first session talked about the importance and necessity of cooperation and the joint responsibility of priests and spouses. The call to priesthood and celibacy do not contradict marital and family life, but they complement each other in the integrated call of man to love and to give life. The calling of priests is a call to families and also to families. We can learn a lot from each other and help each other in our service and mission to others. There was also a lot of talk about the importance of community building. Families need to remain rooted in the faith, to grow humanly and spiritually. Many testimonies in those days showed that group and friendship between families was indispensable. This is not necessarily a new fact, but it shows how important it is to work on this, also for our parishioners.
The importance of this community was also demonstrated in the Thursday noon lectures. A Spanish couple said they had a very hard time in the early years of their marriage and that they really needed the guidance and fellowship of other (older) couples. We needed guidance, they said, we wanted to experience our marriage not only well, but to the fullest. Word escort Featured here, as well as in many other lectures. I would even venture to say that was a kind of common denominator in all that we heard. Walking together, guiding, and walking hand in hand on the path of personal and collective growth, on a human and spiritual level.
This was discussed in a third session by also considering the challenges and difficulties that can arise in marriage. Pope Francis says in Amoris Laetitia"The joy of marriage, which can also be experienced in the midst of grief, involves the acceptance that marriage is a necessary combination of joy and effort, tension and comfort, suffering and liberation, contentment and quest, discomfort and pleasure." (AL 126) Unfortunately, effort, stress, suffering, striving, and discomfort are often prevalent, especially at this time. We must look at all these difficulties and weaknesses in light of the call to holiness. But also take concrete steps to prevent these things. On the subject, a South African couple spoke very candidly about dealing with adultery in their marriage. By taking concrete steps, they learned to communicate again and better, and eventually to forgive themselves and each other. The quote they gave really appealed to me: "To forgive is to set the prisoner free – only to realize that the prisoner is me." This was also reflected in a later session on tolerance. They also said that forgiveness does not change the past, but it certainly does change the future. It was a wonderful testimony, where you can still feel the pain of the event, but where love and tolerance reign.
Also talk about the Canadian community, especially for singles, widows, widows (remarried), divorcees, and mixed families. This spiritual family, which they call the Famille Solitude Myriam, walks together in love and respect for all situations. They all pursue the same goal, which is to love God with all their being and to love each other as Jesus commanded us. What I found special in this testimony was the fact that the community fully supported the Church's teaching about, say, the indissolubility of marriage, but really found a way to walk with all these people, to meet them wherever they were, to guide them from their unique situation, without judging them, but by declaring the truth and love. The Pope has been talking about this pastoral care for several years and I think this community is a good example of that. One I can learn a lot from.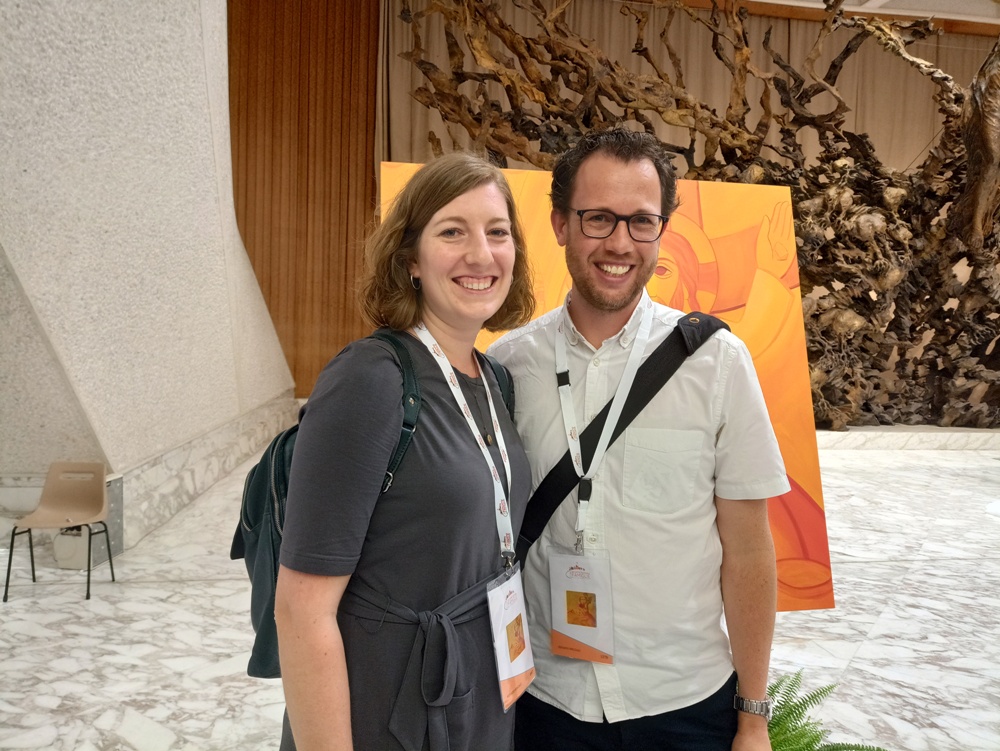 In Panel 4 the focus was on motherhood and fatherhood. An American couple was the first to talk about this and they said some things that resonated with me. In our society there is sometimes a fear among young people of becoming parents. Many young people did not have a good example from their parents, due to being busy or broke. How can we help them with this? The answer lies in part in the well-known word escort. We have to guide them, invite them into our families, show them what it could be like. This does not mean that we are perfect and fortunately we do not have to be. A Spanish couple testified about parenting in a community of families, where there is plenty of room for people to come and eat, sleep overnight, and experience fellowship with others. This couple also has two adopted children who will be adopted. It was a beautiful hospitality story in which the couple said they could be "a host family because they were first welcomed by Jesus and his love." The final testimony in this painting is given by an Italian couple whose fifth child was born with Down syndrome. It was an inspiring, powerful and realistic testimony about saying "yes" to life, with all its difficulties and challenges.
We were invited Thursday evening to a concert in the Lateran Palace, next to the Basilica of Saint John Lateran. We also had the opportunity to visit the basilica at our leisure and afterwards enjoy a classical concert "The Joy of Music" by Philarmonica Marchigiana. The concert was held outdoors in the courtyard of the Lateran Palace. A unique, beautifully arranged and relaxing evening!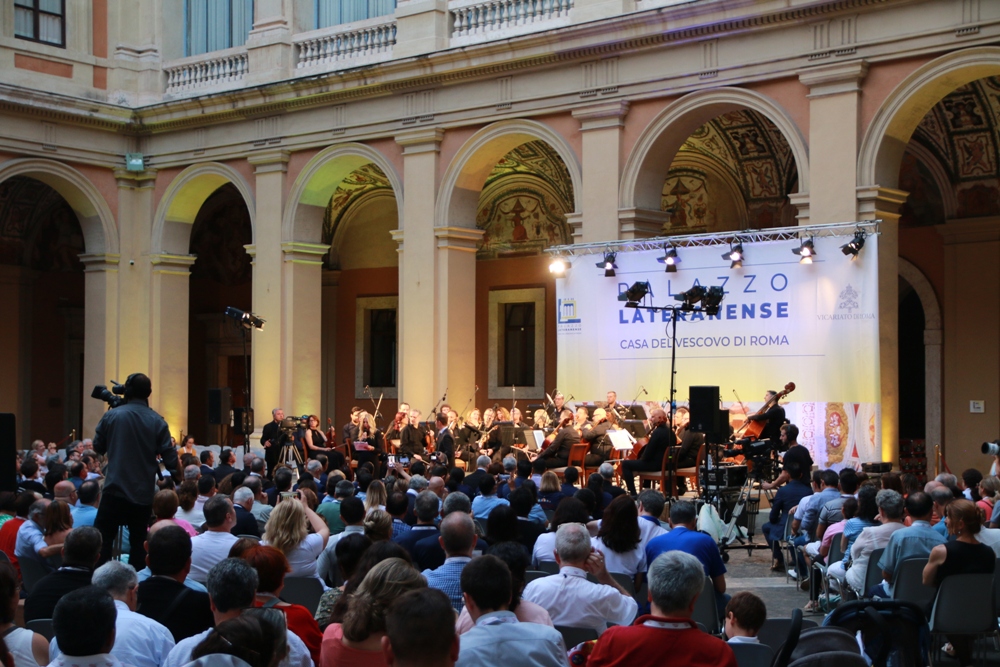 The following parts of the World Family Days report will be available online soon