Give kids a great musical moment based on their own drawings. This is the "Painting for Freedom" project, which launched its first edition on June 21 in Mozicjbo Fritz.
With this project, Muziekgebouw Frits Philips hopes to reach target groups other than those who normally visit the concert hall in Eindhoven. There is cooperation with other primary schools, particularly in the so-called "regions of authority". It is organized twice a year.
incubating the project
The first idea was born in September last year, and in February the first talks were held with Reis van Brandan, de Boog and Kinder Centrum Vellenoord Primary Schools. "It was great to see how the schools embraced the project," said Regeni. "And the folks from our new Inclusion and Sustainability division, especially project lead Jessica Dassin, who worked on it fantastically." According to Righini, co-founder Fuse (known from the TV show Podium Witteman, editor) also immediately understood what it was about and immediately had thoughts on the topic.




Giving children a beautiful moment while also thinking about war and freedom, important topics

Edo Regeni, director Musikgbo
,, We try to give the children a nice moment in a very playful way, through music, through drawings, and at the same time we also think about this important topic. Now – because of the war in Ukraine – it's more objective than ever," says Regeni.
Children from a total of 36 classes of the three schools made drawings that were later revived by the painter: a bird begins to fly, a rainbow begins to shine. This movie was shown on a very large screen and Fuse played live music.
This makes me happy!
He is pleasantly busy in Reis van Brandaan's primary school class, where about fifteen children are working hard on drawing. One has a bright red heart on the sheet, and the other has a huge rainbow. "Why heart? It makes me happy!" Lots of birds too, flags and somewhere there is a real Buddha. But upon inquiry also appears a prison, especially for children. And this dog can finally get out of his cage. Awesome, huh?! "Birds and rainbows are overwhelmed, because in the eyes of children it has to do with freedom.
Another class devoted itself to imagining religions. Almost all religions are covered; From Yin Yang, the Christian faith, Buddhism, Islam to the Jewish faith. All of these beliefs were discovered in a world shaped like a heart for the occasion. "It also comes down to the fact that it doesn't matter if you like a boy or a girl, it should be possible," the two directors said in unison. Another adds, "And that you should always be able to go to school feeling good, and that you're accepted."




It is a unique opportunity for many children to go to Muziekgebouw and experience a concert

Sanne de Wert, Brandaan . Travel Instructor
,, This is a very important project to which I immediately said "Yes". Since it is a unique opportunity for many children to go to Muziekgebouw once and experience a concert, the topic is very important," says responsible teacher Sanne de Wert from Primary School Reis van Brandaan.
"It's also nice that it's classical music. The kids thought it was a little weird: 'But isn't there a singer or a rapper?' But I know it's a special experience, all those different instruments…I look forward to trying it."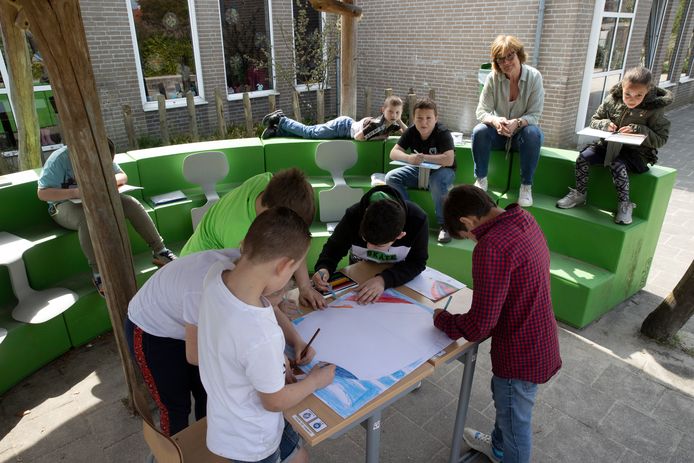 Unlimited free access to Showbytes? And that can!
Sign in or create an account and never miss a thing from the stars.

Yes, I want unlimited free access