The Ixelles lost one of its noblest honorary citizens last Wednesday. Resistance fighter Andrei Julian Herskovichi has died at the age of 100. Who is the woman who sheltered hundreds of Jewish children during World War II? Portrait of "Mademoiselle Andre".
Andre Gülen was born on September 6, 1921 in Brussels to the daughter of booksellers. Andrei showed a strong character from an early age. "She was a driven child, fearless even. My mother was always strong in her shoes," says Andrej Gülen's daughter Catherine Hersković. It turns out that her enthusiasm as a child was a precursor to what Mademoiselle Andre would achieve in her later life.
Guillen began her career as a temporary teacher at the Gatte de Gamonds Institute in Brussels, when Belgium was already occupied by the Nazis. "She had such a big heart for children, it's no wonder she became a teacher," adds her daughter. She was only 17 years old when war broke out in 1939.
Jewish children
The young teacher, now 20, noticed that something strange was happening with the Jewish children in her class. Some of her students entered with a yellow star, others did not appear after a while, and it turns out that the Gestapo (Secret State Police, editor) were arrested. "I hated seeing these smart and brave kids suddenly walking around with a star. They tried to hide it behind their bookbag, horrible!" Jiolin himself told VRT in 1998.
JVC
The 1943 Whitsun's weekend raids in Brussels would be a turning point in her life. Unable to stand the ruthlessness of the Nazis, Gülen decides to warn the Jewish families at the boarding school and help them take cover. Deporting children was the most horrific act possible for her, protecting these young people became her new goal in her life.
I interviewed Ida Sterno, a Jewish social worker and member of the Jewish Defense Committee (JVC). The JVC was a secret underground resistance organization that provided aid to persecuted Jews during World War II. The hard core consisted of twelve women, including Sterno and later Gülen himself.
Sterno was looking for an "Aryan" type of employee. "They were looking for a non-Jewish woman, and I was a young, inconspicuous blonde girl. Not something you would expect from a JVC member," Gülen said.
The most dangerous task
Jiulin joins JVC, the "Kids" division. Marolles, in the heart of Brussels, will become her field of work. Its mission is to safely place children of Jewish families in Catholic nursing homes, boarding schools, or homes. "It was a small link in a chain of eight women, but as a non-Jew it was used for the most obvious and therefore the most dangerous task. She had to take the children away from their parents to house them," her daughter said.
Mademoiselle André and the other women were in a constant race against time to get ahead of the Gestapo.
The Five Books
Throughout her years as a resistance fighter, her modus operandi has remained unchanged. She initially received a letter from the parents, who wanted to take their child to safety. Then Gülen came to the parents' house to accompany the child. "The kids had to get their bags ready and I came to pick them up as soon as possible."
JVC tracked the location where the children were housed through an innovative system. JVC worked with five notebooks. The names of the children are recorded in it. Each of them is assigned an icon. Parents' addresses, aliases, hiding places, and where each child hid were spread out across the five notebooks. Not all scriptures are kept together. If the Nazis found a pamphlet, they would have nothing with that information, because only by putting the five books together could it be deciphered.
to protect them, Didi Giving a new identity to all children with a typical Hebrew name. "On the way to the shelter, Andrei told me that I would be given a new name, and that I was no longer allowed to say I was a Jew. I didn't understand why I had suddenly become someone else? Since then, I've been passing by," says Susan Dedekiewicz, one of the hiding children.
Gestapo tours
Having taken hundreds of children to safety, in 1943 Gülen decided to move to the boarding school where she was studying. Twelve Jewish children were hiding in this building at the time. One night in May, the Germans stormed the school and arrested everyone present. Andrei can escape, but the rest will be deported to various concentration camps.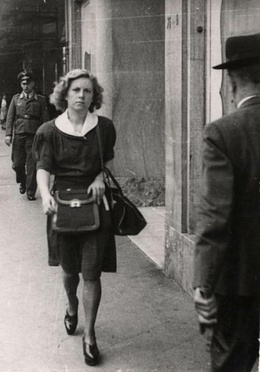 This event will not drop her. She and Ida Sterno decided to rent a house in Ixelles under an assumed name. In this house, the two women will continue the rescue effort. But in May 1944, their coexistence brutally ended. Ida Sterno is captured by the Gestapo and deported to Dussen Barracks in Mechelen. Jiulin was not at home at the time.
In a daring act, Gülen would later sneak into their (former) home in Ixelles through the back door to retrieve the five notebooks the two women had hidden under the rug.
close link
Andrei regularly traveled to different nurseries to see how the children were. She spent time with them, told about their parents and sent letters. "It was important for her to know how the children were doing," said Catherine, "she traveled for two years all over Belgium to make sure they were safe."
When the Allies liberated Belgium in September 1944, Andrei brought back all the hiding children with his family, sometimes for years to be reunited. During the war, she would personally help house more than three hundred Jewish children. In total, JVC has rescued more than 2,104 children from the hands of the Gestapo.
In 2022, Ixlis Mayor Christos Dolkeridis (Ekolo) will appoint Andre Gülen as an honorary citizen of Ixlis, in recognition of the exceptional courage shown during World War II. "All her life, Andrei Gulen Hersković, now a hundred years old, has continued to testify, over and over, to prevent this from happening again to other children, other religions, to fight the racism of today, as she fought the racism of the mayor's edifice in the past.
Andrée Geulen passed away on June 1, at the age of 100. She will forever be remembered as one of the noblest and bravest of Brussels. The last surviving heroes of the "Righteous Among the Nations" were the mostly unknown heroes of World War II who were recently thanked in the Brussels Parliament with a commemorative plaque. And her daughter concludes: "For many, she is still Mademoiselle André, the mother of many Jewish children."
A farewell party will be held on Wednesday at 2:30 pm at the crematorium in Uccle.