"Nice project," says Gabriel Gomez Barros, 22, a resident of the Bospolder-Tossendegen neighborhood. In the background, cheerful reggae music hits the walls of the Pier 80 neighborhood block from the next room, where people are taking dance lessons. In this space, residents sweat for social initiatives. "But," Gomez Barros continues, "why 1,100 euros for unexpected costs and 1,000 euros for an inconspicuous item?" The others seated at the table nodded in agreement.
During the evening, Gomez Barros turns out to be the group's financial man, as joking with fellow residents. Checks the budget for every plan that comes up. Another person goes through the plans in detail, and another pays special attention to the target group. They are thinking about the plans of social entrepreneurs for young people in their area. Among other things, a cooking class, a local radio station and boxing lessons for girls will be evaluated.
"My shirt says it all: BoTu decides!" , project leader Marilyn Ten Vergert said earlier in the evening while introducing residents. She walks through Pier 80 as if it were her own living room: greeting everyone personally and talking to people you don't yet know.
Ten Vergert, head of the ten-year municipal improvement program "Resilient BoTu" in Bospolder-Tussendijken, no longer wants the civil service to decide what is good for the neighbourhood. "I want to abandon the notion that you as researchers—government employees, white and highly educated and not from the district—you have to decide about the district. These people all speak the same language, but not the language of the neighborhood. That was not okay."
an experience
That's why I started experimenting. She works primarily with people from the neighborhood and has made her program budget – around 1 million euros a year – available to residents. They can decide for themselves what happens to the money. "I give them the mandate. They know best what is needed," says Ten Vergert. "And we talk to them about what we're going to do, rather than what's wrong. This gives people positive energy, ownership, control and direction over their neighborhood."
She thinks it is necessary. It indicates low electoral participation in Rotterdam. Her idea: "The relationship between what people vote for and what they see happening in the neighborhood is invisible."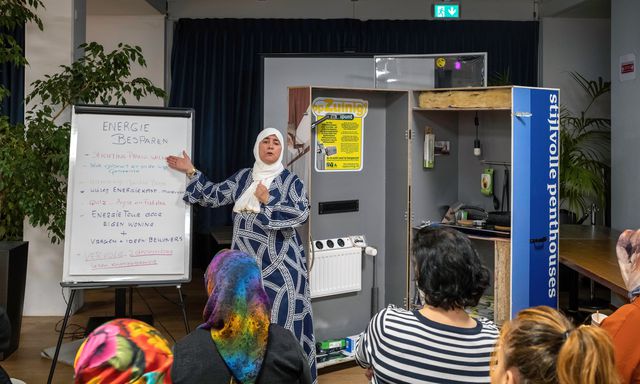 Also read this article: Not everyone in Puteaux in Rotterdam embraces district heating.

This is the second time the residents have met. And nice talk alone won't get you there, Ten Vergert saw the night before. Residents are strict. "Almost everything was rejected last time," she laughs. They were often surprised at the cost and were critical of the feasibility.
The idea that residents decide where the money goes is a novelty in Rotterdam. It is the first step towards "participatory budgeting" that has arisen in Brazil. Porto Alegre residents got money and together decided how it was spent. A great success, says researcher Yannick Drigvot of Erasmus University.
He says that in the 1980s, the military dictatorship in Brazil ended. The city of Porto Alegre wanted to build democracy and confidence in it. The idea was that marginalized groups that were far from politics could participate more democratically by deciding for themselves where the money went.
good drinking water
Drijfhout is investigating whether he could be as successful in the Netherlands as in Porto Alegre. It's still exciting, he thinks. In Brazil, the demand from groups of people who were allowed to participate in decision-making was often focused on certain basic needs. The problem can be concretely solved. Consider providing good drinking water in the neighbourhood." As a city, Rotterdam has to deal with hard-to-solve problems, he predicts. "Does it work then?"
Turnout tonight is lower than the first time. There are about twenty residents and dozens of social entrepreneurs in the room, who devised no-profit schemes to solve social problems in Bospolder-Tussendijken. "The challenge is to find new people, rather than The usual suspects"We would prefer more residents to participate in the decision-making process. We are still thinking about how best to do it," says Tin Vergert.
After a comment about integrity (if you have an interest or if you know a social entrepreneur, you are not allowed to participate), all residents first read short introductions to the plans. Information was also sent to residents to read: the written budget and plan for social entrepreneurs.
The introductions are covered with green ("positive"), yellow ("I still have questions"), and red ("I don't like it") stickers. People are thinking out loud.
"No, it really won't work."
"No, the target group doesn't want that."
"No, it already exists."
"Yes! That's beautiful! Finally taking care of the girls!"
Meanwhile, social entrepreneurs are walking in silence. Like William Dick. She saw many yellow and red stickers on her initiative, a language project in which people not only learn, but also make friends. "Confrontation," she says. "But also educational." Perhaps her suggestion was too technical.
After the first impression, residents can sit at one of three tables divided by theme. This is where social entrepreneurs have to come up with their ideas. Then residents discuss plans. Objective: unanimous ruling.
What about the money?
A professional debate leader from the municipality sits at one of the tables. A local resident paid by the municipality with experience in social entrepreneurship who has delved into the plans. This is the project leader. At a table with the sub-theme guys, this is Rosa Cherandelle. It also pays attention to the maximum spendable budget. Residents can consult it if they wish.
After the pitches, the social entrepreneurs leave and then—while enjoying baby waffles, carrots, cucumbers, fanta and Fernandez—the discussion begins. Residents discuss each plan in detail: Is the target group correct? Does the entrepreneur not want to achieve a lot of goals? Can it handle the target group? W: What about money? How is the budget justified?
You hear criticism about a cultural project that is up for vote. Despite the importance of culture, it looks as if the municipality should contribute to a recruitment drive for the entrepreneur, according to critics. Verdict: Not granted. Although some find it difficult. "Pathetic too," sighs a woman who does not want her name in the papers. "It's not about him, is it! We have to spend the money as much as possible," Gomez Barros tries to put it in perspective.
Residents agree with Gomez Barros' comment about the exorbitant cost of the fun project to make a local radio: too vague. The residents' eyes turn cautiously towards the head of the project, Rosa. He nodded, noticing that, too. Permission tip: Grant in part. Money is for concrete things, but not for "mysterious" things. The people go with it.
Proposals that the groups do not agree on are returned to the large group at the end of the evening. There they all vote together to reach a final verdict – it doesn't have to be unanimous.
Tin Vergert looks on satisfied. "Ultimately, I feel positive by talking together and letting people decide for themselves. It gives energy, rather than absorbing energy. Also for the residents. That's what matters to me."