Manci Csontos-Halasz is a charming and cheerful character. She loves to dress up and has an open and warm appearance, the folds of her face appear in a non-stop smile.A couple of months ago she was still living independently. Her 76-year-old daughter packed all her household items and moved into a two-room apartment in a care center in Dordrecht. In the garden of her new big house, she was looking around with some unease. All these unknown people you haven't met yet. Who is that 103-year-old roommate who seems to be delivering mail every day? She is curious about it. It also takes getting used to Tom Tam. Soon after entering it, people began singing about the special daily habit of the new resident, a practice she had started over fifty years ago with the hope of turning 100, and so it worked.
What's the best decision you've ever made?

Flee from my country Hungary. I have lived in the Netherlands for 65 years and I feel at home here. I don't have to leave anymore. So I no longer have to travel. If someone said to me, "I know a very beautiful castle, would you come with me?" Then I say "no". I've seen enough and love staying home.
What was the direct reason that prompted you to flee Hungary?

I was an executive secretary at a steel mill in my hometown of Gyr, in northwestern Hungary. It was at the end of October 1956, the month in which the population rose up against the Stalinist regime, when the director of the factory ordered me to spy on my colleagues. I had to pass on what they said about the government. I refused. Then I was fired. I told my husband, "It's over, we're leaving." Half of Hungary fled the country at that time. We left in a hurry. I didn't take many dresses.
My 10-year-old daughter Eldi cried a lot, didn't want to come, but stayed with her grandparents who took care of her while we were at work. I said she could stay with Grandma until we find a safe place, and then follow us later. But my mother said sternly, "There are three of you, so you run away with the three of you."
How was the trip from Hungary?

"We left in the evening, when it was dark, so we wouldn't be noticed. My sister, husband and sister-in-law also went with them and had two children. We walked to the station and took the train east towards Austria. Ten kilometers from the border, a guide who could have arranged for us was waiting for us. For a fee, he showed the way across the border. As we walked we wondered: Are we really in Austria or not? Where do you see it? When we saw the bright headlights turning towards us, we were startled and hid under hay bales in the field. As soon as the light was dim and trucks arrived from Relief organizations to find and take refugees, all the hay packets began to move, and more Hungarian refugees appeared.
How was the reception of refugees in those days?

'good. The trucks took us to Vienna, where we were housed in a barracks. We slept on camp beds. Employees came from the embassies of countries that wanted to receive Hungarian refugees. The Dutch embassy wanted us in, and a week later, we traveled by train to Utrecht. There we slept on camp beds again, at Jaarbeurs. We were then accommodated in huts in a holiday park in Ommen. All the refugees were cooked in the garden, but a week later the Hungarian women took over.
How did you build a new life in the Netherlands?

Aid workers asked my husband what kind of work he does in Hungary. 'A pilot' answered, whereupon they said, 'Then you can go to Dordrecht, there is a Fokker aircraft factory there, but later it turned out that nothing came of it.' In January, three months after our journey from Hungary, we arrived in Dordrecht. For the first few weeks we were able to visit a host family with a big house, the Wijers family, from their brewery. My sister and her husband set up with the mayor and my sister-in-law with the owner of the menswear store Krone.
After a few weeks in the host family, we were allotted an apartment and money for groceries for the first week. After those seven days we had to get back on our two feet. Fortunately, I was able to get to work right away. I got a job at Crone, making men's clothing, and my husband's in a garage, as an auto mechanic. We were taking Dutch lessons twice a week. My daughter fell out of it so quickly that she became a translator after only three months.
What did you have to get used to at first in the Netherlands?

The vegetable vendors were not selling peppers and garlic. Goulash without sweet pepper and garlic is not tasty. I went through all the shops in Dordrecht and eventually found a greengrocer selling them. I told Hungarian friends about my finds, and on the same day all the threads of pepper and garlic were sold out. Poppy seeds for baking poppy seed cookies, found at the pet store. At first I didn't speak a word of Dutch, and when I wanted to buy a ham from the butcher I hit my thigh. Fortunately, he understood that, haha.
How do you look back on your childhood?

It was a happy time. I'm still happy. When I was a kid I was free, you can play anywhere. There was no danger on the road like now, with all the traffic. We were six, three girls and a boy. My mother worked full time as a dry cleaner. My father was wounded in the First World War and he couldn't do much more than that. He was a housewife and always cooked. Behind our house we had a large vegetable garden to keep. He grew peppers, tomatoes, carrots, lettuce, onions, fruits, and in winter potatoes and all kinds of cabbage. He sold what was left in a tent in front of our house. My parents weren't strict, but they were kind.
Have you ever felt homesick for Hungary?

'new. never. I am having a great time in the Netherlands.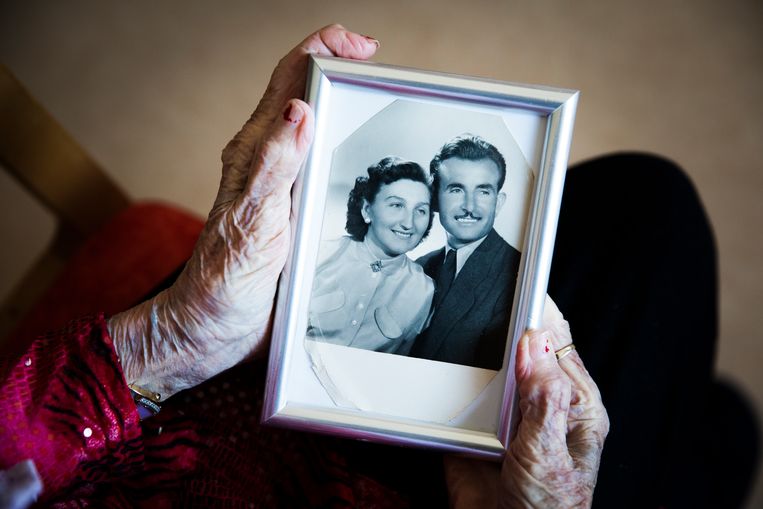 Who was your great love?

He was a pilot. In the summer he studied paragliding and skydiving. Sometimes he accidentally ended up in Austria with his glider, then he bought cigarettes and sweets and came back quickly. In the winter he was a freight forwarder with a transport plane.
I was very young when I got married, I was 17 years old. It wasn't with Gëza, there was another guy first, who was 15 years older than me. His suit had been dry-cleaned at the dry cleaners where my mother worked. Thinking his suit had been damaged, he came to get things done and said to my mother, "If I could marry your daughter, we wouldn't talk about her anymore." My mother agreed.
Aren't you angry with your mother?

"Haha, no, not at all. He built a wooden house and we went to live in it. This guy turned out to be a free ranger, he took on the work he could get here and there. I was 22 when my daughter Eldi was born. He died suddenly at the age of 4 I continued to live in the chalet for a while, and my daughter was often with my parents when I had to work. Five years later I met Joza and married again.
What do you think of Hungary today under Prime Minister Viktor Orban?

(clouds her face). One of them said: It is good, and the other says: It is not good. I never talk about politics or Urban.
What does your average day look like?

I eat and drink. I have never eaten as much food in my life as here in this care centre. All meals are delicious. I can no longer see well, I have lost 70% of my sight. Reading and doing crossword puzzles are no longer possible. I have TV all day. I also love listening to Dutch music and songs by Andre Hazes for example. I also love Andre Rio. And my daughter comes almost every day.
Would you like to be young at this time?

'actually yes. I would like to turn 20, 22 years old again, this is the best time of your life. Then I meet a nice guy again, and marry him if all goes well. I'm looking forward to it.'
Mansi Csontos continues to speak her mother tongue, which is a sign that she is starting to get tired, as her listening daughter knows. One last question, then.
What is your secret that allowed you to live to old age?

I don't feel old at all. I don't feel any pain anywhere. You can only tell from my treadmill that I'm not that young anymore. A long time ago, when I lived in Holland for a few years, I saw a 110-year-old Russian man on TV. He said he was getting old because he drank vodka every day. Since that day I have been drinking two glasses of vodka a day, Smirnoff. One in the afternoon, with tea, and one in the evening before bed. It worked, and I sleep great.
Mansi Csontos-Halasz
Born: December 21, 1921 in Gyr, Hungary
Lives: in a nursing home in Dordrecht
Occupation: seamstress
Family: Two sisters (89 and 98 years old), one daughter, two grandchildren, one grandson
The Widow: 1948 and 1999