The consequences of climate change on agriculture
The acceleration of climate change, along with global population growth, threatens food security worldwide. Higher temperatures, prolonged drought and changes in rainfall patterns reduce crop yields, increase the potential for crop failure and lower production. Populations in developing countries, already vulnerable and food insecure, are likely to be hit the hardest. Today, 75 percent of people living in poverty worldwide live in rural areas. Poverty and food insecurity can fuel poaching and the illegal wildlife trade, and human-animal conflict can occur when humans and wildlife in the same area forage for water and food.
Improving incomes for small farmers
In Zambia, smallholder farmers are part of a project to improve the incomes of local communities and individual farmers. They are trained to grow high-value crops such as peanuts, soybeans and cowpeas and become less dependent on poaching for bushmeat or for profit.
The project mainly targets 3,500 women farmers – 1,000 in Malawi and 2,500 in Zambia – spread over an area of ​​32,278 square kilometers of the Malawi-Zambia Transboundary Conservation Area (TFCA). This area includes extensive community land and three national parks, Lukusuzi and Luambe in Zambia and Kasungu in Malawi.
Training and hiring local leaders
As part of a partnership between the International Fund for Animal Welfare (IFAW) and Community Markets for Conservation (COMACO), funded by the German Agency for International Cooperation (GIZ), 30 local leaders have been recruited and trained at TFCA. They will train and assist 83 farmers each. Others will learn to identify products, such as mushrooms and caterpillars, to sell for income and prevent illegal activities such as poaching and logging for charcoal.
Neil Greenwood, IFAW Southern Regional Director, said: "Climate change is negatively impacting smallholder farmers in the Lukusuzi/Kasungu TFCA District in Zambia and Malawi, resulting in lost income. This may result in people turning to poaching for wildlife for a livelihood or profit. ". Africa. "IFAW believes that people and animals can live together in balance. By supporting climate-smart livelihoods in communities at TFCA, we can improve incomes and protect wildlife from the threat of poaching."
Practical and cost-effective solutions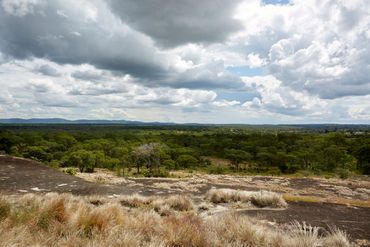 "The focus of the project is to find practical and cost-effective solutions to the growing challenges of climate change facing poor small farmers today. The project is an extension of COMACO's existing operations with 230,000 farmers through 3,500 vulnerable households. It is made up of women and youth, who are supported with a variety of skills earning a living, through increased income and food security," said Del Lewis, CEO and founder of Comaco.
In accordance with all-organic principles, Kumako trains farmers in, among other things, growing legumes to improve the nutritional content of the soil, and applying crop rotation to keep the fields healthy. Crops planted next to Gliricidia sepium Trees, which provide additional nutrition to the soil and are naturally pest resistant. "Komako has planted 60 million trees for the 2021-2022 season. Our plan is also to plant 1.75 million trees under this project – 500 seedlings of agricultural forest for every 0.25 hectares of farmland per farmer," Del Luis said.
Kumako will also distribute 1,000 Better Life books to local schools and farmer producer groups in Zambia and Malawi. The book is a local language training guide with color-coded visual aids on topics such as sustainable agriculture, crops and agroforestry management.
Promoting Climate Resilience and Cross-Border Cooperation in the Kasongo/Lokosozi Transboundary Protected Area (TFCA) is an IFAW and COMACO project supported and funded by GIZ. IFAW is the sole author of this article and the opinions expressed are those of IFAW and not of GIZ.
text: International Fund for Animal Welfare (IFAW)
Photos: Julia Gunter and Sheena Dale, International Women's Federation