One cold winter afternoon in 2001, we climbed a hill with a group overlooking Beijing. I was carrying a cardboard box. The sun was setting on the trees. We just heard our footsteps on the dry leaves. "This is a good place" someone whispered when we got to an empty space. A stone ledge hung over the hill. Behind us was a small forest. I put the box on the edge, carefully with the slot away from me, and carefully opened the cardboard flaps. A little eagle owl jumped out of the box, jumped a little, and turned around. Before he flew toward the trees, we were in eye contact for a moment.
I was overwhelmed with feelings. It was a special moment. This eagle owl was the first patient to be released from the first raptor sanctuary in China. For the first time, animal welfare was considered when releasing birds of prey. By releasing the nocturnal bird at dusk, we gave it the best opportunity to learn its new environment, hunt and survive in the wild. When I saw an eagle owl flying away that day, I remembered why I founded the Beijing Raptor Rescue Center (BRRC).
Create a BRRC
In the winter of 1998, news broke that Chinese customs had carried out a series of seizures of illegally traded birds of prey. One such seizure at Beijing airport involved nearly four hundred falcons. Saker hawks are medium-sized migratory birds, whose habitat extends from central Europe to China. The smuggled birds were piled up in bags. They were tucked into tights and their eyelids sewn. They were on their way to the Middle East. Unfortunately, there was no professional shelter for raptors to save them. Even worse, people of good will have caused irreversible damage to the animals. I went for the so-called version, which was promoted in order to "increase public awareness that birds need protection." However, the lives of these birds of prey were sacrificed in order to be able to take pictures. Six celebrities in a crowded crowd each carried a sick bird. There were three of them, and as the crowd cheered and the cameras flashed, they threw the stunned birds, including four owls, into the air. All the birds immediately fell to the ground. My heart broke at the sight of their lifeless bodies.
Then I thought, "IFAW should have a form to demonstrate standards for animal welfare in rescue, rehabilitation and release operations." And from that moment on, I was determined to make it happen.
She got in touch with Beijing Normal University (BNU), famous for its research in ornithology – ornithology. Teachers at BNU were excited about the idea. BNU provided not only the experience, but also a location: a quiet part of the campus, in the middle of the city. Together, we've achieved the first thing for China: the first sanctuary for birds of prey.
Overcoming challenges and improving technologies
Twenty years passed quickly. The Raptor Rescue Center in Beijing continues to grow and make progress.
In 2010 we got our first anesthesia machine. Prior to this, workers had to hold the birds to take x-rays, sometimes moving them back and forth during surgery. Thanks to the anesthesia machine, employees no longer have to wear a ten-kilogram lead apron to take X-rays, and can treat raptors more safely and efficiently. That year, we also made progress in treating broken bones in birds of prey, although some bones are no bigger than a toothpick.
In 2014, we installed automatic sprinklers in the outdoor enclosure, which help the raptors cool off in the summer. Since then, employees no longer have to walk around carrying garden hoses in the heat to manually cool bird cages.
In 2016, we purchased a constant temperature operating bed to prevent birds from losing heat during operations. Before that, birds were warmed by a jug during operations. That year we were also able to improve the cages with wood. In the front of the cage, the birds can see each other through the gaps between the planks. This allows young birds of prey to observe and learn from the behavior of experienced birds. The back half of the cage remains completely closed so the animals can back out if they need to.
BRRC has not only improved its materials. The employees are also constantly learning new skills, applying advanced bird rescue techniques in their daily work. They offer professional treatments and are available 24 hours a day to take care of any bird of prey that comes along.
Impact of BRRC on bird protection
Since the release of the first vulture owl twenty years ago, BRCC has acquired more than 5,500 birds of prey from 39 different species. More than 54 percent of these birds of prey have been released. To make sure they survive in the long run, we've set up post-release monitoring. A GPS transmitter of a Mongolian falcon released on March 27, 2018 shows that the bird has already survived several breeding seasons in Mongolia.
BRRC staff not only treat individual birds of prey, they share their knowledge and promote animal welfare in every rescue, every media story, and every school activity. They share their experience and knowledge with other shelters across the country, raising the standard of raptor care and jointly promoting raptor protection in China.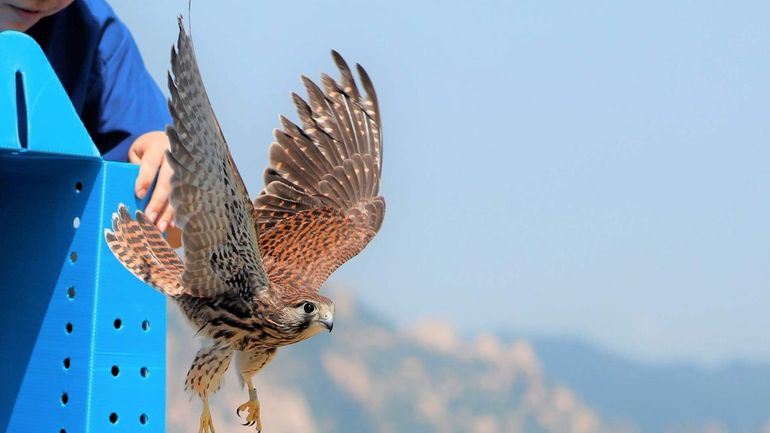 Increase appreciation for the care of wild animals
The BRRC's findings are partly due to a more environmentally responsible society. There is also a growing awareness among the general public that is increasingly supportive of animal welfare in saving wild animals.
Many rescuers learned to give first aid to birds of prey before the specialists arrived at the rescue center. Recently, a hotel manager found a long-eared owl fixed on the premises. I immediately placed the injured bird in an empty cat carrier and placed it in a quiet place, covered with a towel. With this quick action, I was able to avoid unnecessary stress for the animal, so that the long-eared owl can be quickly returned to the wild.
In the early years of BRRC, our staff often received phone calls with the question: "Is this bird edible?" Awareness about animal protection is now much greater, and the most common question is "Is this bird in danger? Can you save it please?"
Over the past two decades, the BRRC has had an impact on combating wildlife crime and promoting policies to allow people to coexist peacefully with wildlife. We believe that wildlife belongs in the wild, and we are proud that our work influences influential agencies and their wildlife policies.
We look forward to the future of BRRC and continue to do everything we can to give the rescued raptors a second chance.
Text: Grace J. Gabriel, International Women's Federation Director for Asia
Photos: Mengshuang Zhou (main image: a released Mongolian hawk flies back into the wild as BRRC rehabilitation workers watch Li Zhou (left) and Betty Dai (right) in the background); Pingsheng Fu, IFAW; Sun Zhengfang, IFAW