It is undeniable that the Mondrian Jazz Festival is organized in The Hague. Having been forced last year to put up a poster with mainly Dutch jazz greats, which can only be presented digitally, the festival will have an international lineup this year. Corona or not, Mondriaan Jazz will focus on the best and most authentic jazz happening internationally in 2021. And there was a nice and varied programme. From the Berlin subway and the new Finnish to Mexican choral singing. Visitors to Haagse Paard and Koorenhuis across the street enjoyed jazz for a long evening, spurring a thirst for adventure.
Despite all the travel restrictions, there were no cancellations. We're used to it, but we immediately started with the larger names of this edition. Pianist Jason Moran and double guitarist Christian McBride were in the Great Hall of Horses at 6 AM. Two Americans have been on top for years, even if they usually walk in slightly different circles. Moran is the more challenging looking musician of the two, just as versatile and talented as McBride but less wedded to tradition.
This duo lineup was something new to both of them, but it didn't appear in the game, as the pieces by Thelonious Monk, Charles Mingus and Wayne Shorter were combined in a way that was both loving and sassy. McBride Foreplay Introduction To Mingus' Goodbye pork pie hat So fast that you didn't recognize it until Moran revealed some notes of the melody. But gentlemen did not have the right to imitate classical jazz compositions. At most, they served as the basis for exhilarating, often ingenious exercises on their gadget. It gives me great pleasure to see two musicians who seem to blend in with their bass and piano with so much fun combining subtlety and fun.
It's rare to take so much historical baggage lightly, but the nice thing about Mondriaan Jazz is that the organization's sense of tradition is always less important than their view of the future. Belgian band John Ghost provided an exciting cross-pollination between minimal jazz and rock. The most exciting performer was British drummer Joseph Dyce. Hip-hop music once borrowed the beats and rhythms of jazz and daze, supported by keyboardist Charlie Stacy and guitarist Rocco Palladino, and retrieved them from leading rhythm makers such as J. Della.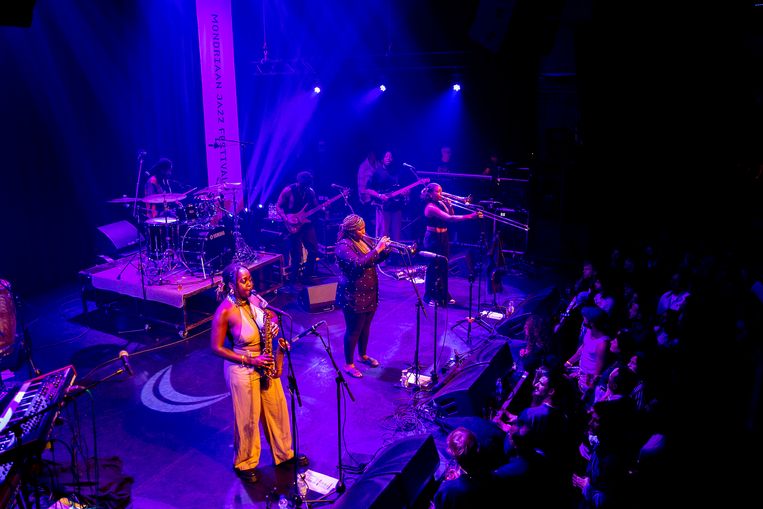 After several fireworks, Britain's eight-member Kokoroko's performance, which was advertised as exclusive, was a bit disappointing. The three women took turns dancing, singing, and especially playing the trumpet, sax, and trombone. The band could also throw a nice equestrian party, but it didn't really come out. With so many musicians together on stage, with lots of brass and percussion instruments, you hoped they would spice things up.
It could of course be a lack of routine. Kokoroko was barely able to play together for a year and a half, but he couldn't really let go.
Berlin Y-Otis did just that as a closing event at Kleine Zaal. Their mix of electronics, neuro sax and broken rhythms certainly wasn't for everyone, but catching a glimpse of underground jazz, which thrives better in the club than in the jazz scene, was also an experience we must have missed for a long time.
Finnish jazz

The Mondrian Jazz Festival has crossed the Dutch jazz scene this year, but what about the rest of Europe in jazz? Belgium is doing well, as it turned out on Saturday in The Hague. Jazz is basically a mixture of styles for young Belgian musicians. Rules, like any form of purge, are taboo, making Belgian jazz groups popular at pop, dance, and jazz festivals.
British jazz has been in a creative boom for years, which Joseph Days emphasized to Mondrian Jazz. But the special attention paid to Finnish jazz this year is a little difficult to explain. Saxophonist Timo Lassy has a beautiful tone, but his performance with percussionist Teppo Mäkynen wasn't really that exciting. Well: the KO quartet also had a little imagination. A group of musical boys who preferred to play John Coltrane with the quartet circa 1965. We have a lot of those here too.
Mondrian Jazz Festival

Jazz
9/10, Paard en Koorenhuis, The Hague.