Orphan elephant shelter in Zimbabwe
working in zimbabweand others International Fund for Animal Welfare (IFAW) Working with Wild is Life at the Zimbabwe Elephant Nursery (ZEN) project. Near Harare there is a shelter for orphaned elephants. They often lost their mothers through poaching or human-animal conflicts and need help to survive. At ZEN, young calves are looked after and monitored day and night by a team of caretakers. Orphaned elephants are often cared for by ZEN for three to five years, with all elephants receiving the personal attention and support they need to survive.
When I got to ZEN, I immediately saw Beatrix walking around, a cute orphaned elephant just a few months old. I fell in love instantly! Fun, adventurous and very grotesque, with three new and somewhat unusual friends: Daisy Buffalo and three jungle pigs, Frank and Freddy and Sweet Pea. I like it, I can be very stubborn – do what you feel like. And as a mother, it does something for you, too, to see such a small animal and to think that she lost her mother and almost did not survive. Then you realize how valuable these projects are, which really help give this iconic animal a future.
Face to face with wild elephants
In the afternoon, we went to a nearby nature reserve, where a larger group of elephants roamed from the orphanage. Exceptionally we were allowed to sit on some big stones near the elephants. You can hear them from a distance, a kind of low rumble – a bit of "elephant talk". Since elephants are naturally very curious, they walked to the stones with some of their caretakers. At first, they kept a little distance between themselves to assess the situation I think. Then one or two people got so curious that they got a little closer and pulled out their trunks for acquaintance. Then if you blow into it, they can smell you and get to know you a little bit. How wonderful! This was a special experience, I have no words for it. I looked into the eyes of those elephants and whispered softly that I would not abandon them and would continue to help them. I am so grateful that I was able to try this and realize very well that this is not something that happens very often. In the rehabilitation process, elephants do not want to get used to people too much, which made this moment very special.
Once elephants begin puberty, they are actually too old to fit into the orphanage. Then it becomes important to find a herd for them and a place where they can roam freely. The ZEN team then transports the animals to the so-called "launch site", which is located in the Panda Masuie forest. Elephants have their own "puma", an African term referring to a place where a group or family lives together. In this case a piece of nature with a fence that provides extra protection especially at night.
The last stage before returning to the wild
Every morning the puma elephants leave for the Panda Masuie forest with their guards. Then they roam happily in the woods all day in search of food, water, and play together. This is the final stage of the process: elephants learn every day how to interact with each other and with other wild animals, as well as how to survive in the wild themselves. The great thing is that the elephants decide for themselves when they are ready to leave the launch site for good. Some go away for a while and then come back, doing it a few times before finally remaining in the wild. Others set off immediately after a relatively short period of time and immediately followed their own path.
We were there sometime at 6:30 in the morning, before the puma elephants left for their day in the woods. I met in that Puma for the first time Moses, the orphaned elephant who walked alone into the launch site of Panda Masuie. The herd immediately accepted him with love to join the group and takes good care of him, so the ZEN team left her just like that. As I watched Moses and his new makeshift family in the morning sun, I really felt a sense of hope. Imagine if this shelter option didn't exist. Then Moses and many other elephants did not have a chance. And now they are very strong, very confident and have a good chance of survival!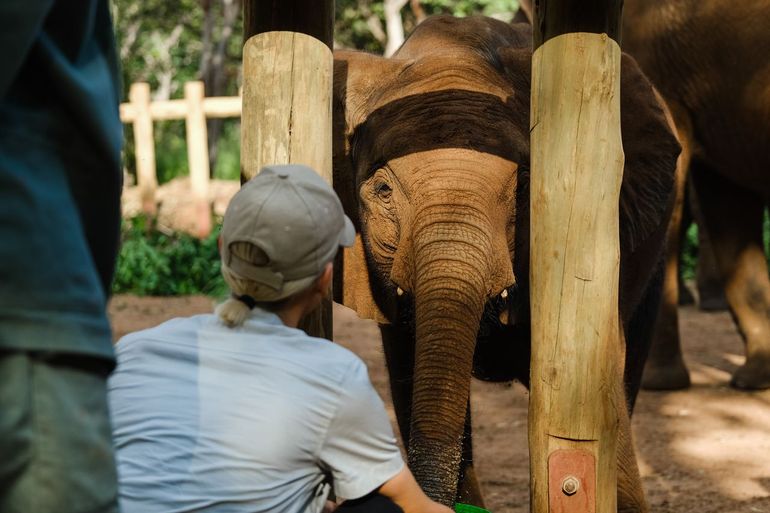 That's why I became an ambassador for the International Women's Federation. They are committed to preserving the natural areas and protecting the animals that live in them, including the individual animal. They showed me that if you protect the elephant, you also protect the entire nature reserve that the elephant lives in and all kinds of other animals that live there as well. This is why the work that IFAW does is so important, in Zimbabwe and elsewhere in the world. We have to realize that it's really 5 to 12. Not only for the elephant, but for many other animals as well as nature in general. There is still something we can do now, but then we really have to take action.
So let's do it together: work for a safer place for animals and humans!
Text: Nicolette Kluijver for IFAW
Photos: Michelle Furtman, International Women's Federation (TOP PHOTO: Nicolette meets Beatrix and her friends at the elephant sanctuary in Zimbabwe)