During this particular knowledge, you will have the opportunity to increase your knowledge and experience in genres through online course evenings and by hanging out with others during two field days. This way you get a chance to learn whole new things. You will be taught by all kinds of professionals from different fields and organizations, such as the Anemoon Foundation, RAVON, the Butterfly Foundation, and the Mammal Society. You learn about many green organizations and discover how you can work with species and protect yourself.
Are you (or do you know) someone between the ages of 18 and 27? Would you like to gain (more) knowledge about all the beautiful species of the Netherlands? And do you also like to start on your own? Register and participate in the special Knowledge Program: Species Identification and Protection.
Private knowledge consists of different parts
theory: The theory part consists of ten online lessons on Wednesday evenings. These classes are organized by topic – from your backyard to the beach. First Class on Wednesday, March 30th.
Field days: We organize a field day at the beginning and end of the special knowledge presentation. On these two Saturdays you will learn how theory works in practice. Field days also provide an opportunity to get to know each other and species experts. Great opportunity to expand your network!
Free operation mission: Each theory lesson has a free assignment. Through this task, you can put the acquired knowledge into practice. This can be done, for example, by researching and photographing, painting or observing certain species in your area. You can choose to perform this task alone, or with a group of fellow participants from your area.
Program overview:
Wednesday 30 March: Plants and animals in the wild. Species that you don't see elsewhere live on grass. You may be familiar with the purple-flowered heather, but did you know that there are many special plants and animals? Amphibians, reptiles and wild bees for example. Experts from EIS Kenniscentrum Nederland and RAVON explain it.
Wednesday 6 April: Nature in the Netherlands. What exactly is nature? And what are the ways you can think of and deal with it? Sander Turnhout, strategic advisor at Radboud Healthy Landscape and Species NL, provides this lesson.
Saturday 9 April: First field day. On this day we meet and begin to work with the Department of Nature in practice. It will follow the exact location and content of the program.
Wednesday, April 13th: Freshwater animals. Holland is a watery country. We also have a lot of aquatic animals. Otters and beavers, for example, but also all kinds of fish and amphibians. The experts from the Mammal Society and Ravon know all about this!
Wednesday 20 April Animals and plants beaches and the sea. In addition to fresh water, of course there is also a lot of salt water in the Netherlands. A wonderful source of life, with species such as sea snails and oysters. The Anemone Foundation specializes in this and provides an exciting evening.
Wednesday, April 27: Plants and animals in the garden. Your garden is full of life, too. For example butterflies, birds, small mammals and amphibians. This lesson is a mix of different speakers and is full of tips for getting started on your own.
Wednesday May 4th: Forest species. Who doesn't walk in the woods now and then? There is more to see than you think. In this lesson you will learn about twigs, spot ferns, watch mushrooms, and detect animal trails.
Wednesday 11 May: Now in practice. Now that you know about a lot of species, let's get started with practice. What can you do on your own to search for these species? For example, we talk about counting migratory birds, burying traps, monitoring species, and much more.
Wednesday, May 18: Climate. Our climate is changing. This affects all plants and animals. Species are disappearing, but new species are also emerging. How does this work? Is it good or bad?
Wednesday 25 May: Nitrogen Effect. A complex subject that plays out on many levels. Because what about nitrogen? What are you doing to our environment? And how could it be otherwise?
Wednesday 1 June: last lesson. You can organize this lesson yourself! Did questions arise or topics were discovered that you would like to know more about? You can organize this last lesson yourself into one of our free assignments. So you can fill in the topic and the speaker yourself.
Saturday 4 June Closing (Pentecost)† We end this knowledge for a field day, where you can work on observing birds, butterflies, grasshoppers, plants and amphibians.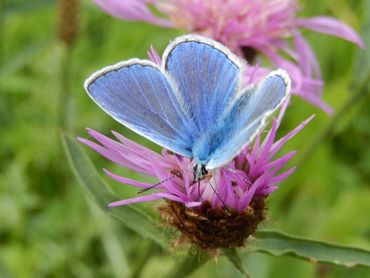 Site
Theoretical lessons take place online. For the free task, you are free to choose where you perform. You can go out alone or work with other participants from your area. In addition, two field days are also conducted on site. So go outside!
the organization
Proprietary Knowledge is a collaboration between SpeciesNL and Green Traineeship.
SpeciesNL is a network in the field of nature conservation in the Netherlands. Affiliate organizations conduct research on the species and their habitats in the Netherlands. All these organizations, along with thousands of volunteers, collect information about all kinds of wild plants and animals in the Netherlands. This means that both individual species and their habitats can be better protected. This applies not only to nature reserves, but also to agricultural lands and cities.
The Green Traineeship is an initiative of ten natural and environmental organizations in the Netherlands: IVN Nature Education, LandschappenNL, Milieudefensie, Species NL, Natuurmonumenten, GDO, The Rock Group, FAWAKA Netherlands, NIVON/NIVON JONG, Association of Forest and Nature Owners (Association of Forest and Nature Owners (VBNE). Together, we offer young people aged 16 to 27 the opportunity to commit to an environmentally friendly volunteer project. The project lasts a few months, with a group of interns working together for one or two days a week.
sharing
Text: Ineke Radstaat, The Butterfly Foundation; Sander Turnhout, Species NL; Lisa Kends and Monica Grottmann, Even
Photos: Kars Feeling